Chile Earthquake, Tsunami 2010: LATEST UPDATES, VIDEO

11:40 AM ET -- Video of the aftermath. Raw video from the AP in the wake of Saturday morning's earthquake.

11:30 AM ET -- Evacuations in Hawaii. From CNN breaking news email: "Sirens sound across Hawaii, warning of possible tsunami and signaling people in coastal areas to evacuate."
According to the U.S. Geological Survey, tsunami waves have reached as high as 7.7 feet off the coast of Chile.
11:27 AM ET -- Map of the Chile earthquake. From the U.S. Geological Survey web site.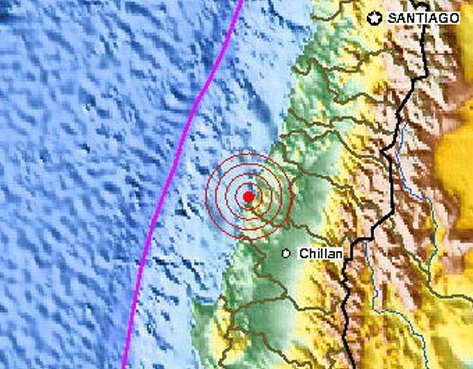 11:25 AM ET -- Info from the US Department of State Bureau of Consular Affairs. Via their Twitter feed:
Americans in #Chile who need assistance should contact local authorities or US Embassy in Santiago (330-3476, email santiagoamcit@state.gov)
If you are concerned about a U.S. citizen in #Chile & have not been able to contact them email Chile Task Force: ChileEarthquake@state.gov
11:15 AM ET -- White House statement. From Robert Gibbs: "We are closely monitoring the situation, including the potential for a tsunami. Our thoughts and prayers are with the people of Chile, and we stand ready to help in this hour of need."
11:12 AM ET -- Looking for someone lost in the quake. Google has a person finder app set up here where you write in about someone you are looking for, as well as pass along information you may have about someone.
11:10 AM ET -- Latest death count. CNN has it at 122.
10:30 AM ET -- Tsunami warnings in effect. The following places have been listed:
CHILE / PERU / ECUADOR / COLOMBIA / ANTARCTICA / PANAMA /
COSTA RICA / NICARAGUA / PITCAIRN / HONDURAS / EL SALVADOR /
GUATEMALA / FR. POLYNESIA / MEXICO / COOK ISLANDS / KIRIBATI /
KERMADEC IS / NIUE / NEW ZEALAND / TONGA / AMERICAN SAMOA /
SAMOA / JARVIS IS. / WALLIS-FUTUNA / TOKELAU / FIJI /
AUSTRALIA / HAWAII / PALMYRA IS. / TUVALU / VANUATU /
HOWLAND-BAKER / NEW CALEDONIA / JOHNSTON IS. / SOLOMON IS. /
NAURU / MARSHALL IS. / MIDWAY IS. / KOSRAE / PAPUA NEW GUINEA /
POHNPEI / WAKE IS. / CHUUK / RUSSIA / MARCUS IS. / INDONESIA /
N. MARIANAS / GUAM / YAP / BELAU / JAPAN / PHILIPPINES /
CHINESE TAIPEI
Estimated arrival times in the US are here.
UPDATE: 8:25 a.m. -- 1,000 times more powerful than the Haiti earthquake. From the New York Times:
Phone lines were down in Concepcion as of 7:30 a.m. and no reports were coming out of that area. The quake in Chile was 1,000 times more powerful than the magnitude 7.0 earthquake that caused widespread damage in Haiti on Jan 12, killing at least 230,000, earthquake experts reported on CNN International.