We are blogging the latest news about America's war in Afghanistan and Pakistan. Email us at AfPak [at] huffingtonpost.com. Follow Nico on Twitter; follow Nicholas on Twitter. See archives of 'At War' here.
1:30 PM ET -- The new generation of militants. This Sunday's New York Times had a must-read article on the new generation of Pakistani militants who, under the influence, have responded to their frustration and disenchantment by attacking their own country and fellow citizens with increasingly deadly results. Read the full article here.
Mr. Kundi and members of his circle -- educated strivers who come from the lower middle class -- are part of a new generation that has made militant networks in Pakistan more sophisticated and deadly. Al Qaeda has harnessed their aimless ambition and anger at Pakistan's alliance with the United States, their generation's most electrifying enemy.

"These are guys who use Google Maps to plan their attacks," said a senior Punjab Province police official. "Their training is better than our national police academy."
1:20 PM ET -- Afghanistan bans coverage of Taliban attacks. The government announced a ban Monday on coverage of Taliban attacks, saying it emboldened militants, Reuters reports. Reporters will still be allowed to film the aftermath of such attacks; however they will be held if caught filming while attacks are underway. Journalism and human rights groups promptly criticized the move, saying it would deprive "the public from receiving accurate information on any occurrence."
10:00 AM ET -- al-Balawi video: CIA target a gift from God. In a posthumously released video that appeared on extremist websites Sunday, Humam Khalil Abu Mulal al-Balawi, the Jordanian physician and double agent who killed seven CIA operatives at a base in Eastern Afghanistan in December, describes how he had originally intended only to kill a Jordanian intelligence official, but then stumbled on the opportunity to also take out the CIA officers as well. The 43-minute video appeared to have been filmed shortly before al-Balawi blew himself up at the CIA base, the AP reports. In the video al-Balawi calls for jihad in Jordan and describes how he double-crossed Jordanian intelligence officers who had sent him to Afghanistan to spy on al Qaeda.
"We planned for something but got a bigger gift, a gift from Allah, who brought us, through his accompaniment, a valuable prey: Americans, and from the C.I.A.," he says in the video, according to the New York Times, citing a translation by IntelCenter, a US-based group which monitors extremist websites. "That's when I became certain that the best way to teach Jordanian intelligence and the C.I.A. a lesson is with the martyrdom belt."
The new video was produced by As Sahab, al Qaeda's propaganda arm. The Washington Post also has a thorough analysis of the video here.
A still from the video, via IntelCenter.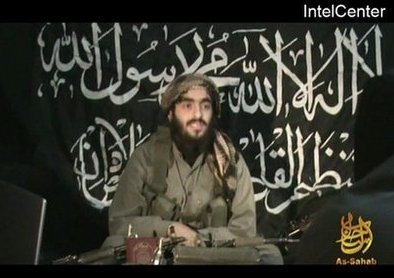 9:45 AM ET -- Video of Mehsud released, but no proof he's alive. The AP reported Sunday that they had obtained a video of an interview with Hakimullah Mehsud, the Taliban chief who Pakistan officials had 'confirmed' last month was killed in a US drone strike in mid-January. The Pakistani Taliban have, meanwhile, continued to insist Mehsud was still alive, though they have yet to release evidence to support the claim, saying instead that they didn't need to provide definitive proof. The AP acknowledges upfront that the latest video fails to offer proof that Mehsud survived the attack.
The 43-minute undated video, obtained by The Associated Press on Saturday, shows a healthy Mehsud in white traditional Pakistani dress answering questions from an interviewer sitting off-screen. Another man, wearing a mask, holds a microphone up to Mehsud.

Mehsud extols the virtues of waging holy war in Afghanistan and Pakistan and warns U.S. forces not to enter Pakistan's tribal belt, a lawless stretch of territory along the Afghan border where his and several other militant networks are based.

"If they make the mistake of entering the Pakistani tribal areas, they will open a new chapter of their destruction in history which may surpass their defeat in Vietnam," Mehsud says in the video
9:30 AM ET -- NATO troops killed. Four NATO troops died following multiple attacks, including a suicide car bomb targeting a military convoy, the AP reports. Details of the attack:
Mondays' suicide attacker waited in a station wagon taxi for the NATO convoy to cross the bridge between Kandahar city and the airport, then detonated his explosives, tossing a military vehicle into a ravine, said Inhamullah Khan, an Afghan army official at the site.

A NATO spokesman, Maj. Marcin Walczak, confirmed one service member died in the suicide bombing. He did not provide the nationality or any other details.