We are blogging the latest news about America's war in Afghanistan and Pakistan. Email us at AfPak [at] huffingtonpost.com. Follow Nico on Twitter; follow Nicholas on Twitter. See archives of 'At War' here.
Gates talks of 'dark days' ahead. U.S. Secretary of Defense Robert Gates met with Gen. McChrystal and Afghan President Karzai Monday to discuss plans for the planned offensive in the city of Kandahar, which may begin as early as this summer. McChyrstal said the offensive in Kandahar will likely differ from the recent Marjah offensive in the pace that it unfolds, which is planned to be slower.
Meanwhile, Gates warned of "dark days" ahead in Afghanistan, while also voicing a degree of optimism, Reuters reports.
"There is still much fighting ahead, and there will assuredly be some dark days. But looking forward there are grounds for optimism," he said at a press conference with Karzai.
5:20 PM ET -- Karzai's Taliban plan. Karzai announced Monday that his plan to engage the Taliban and reintegrate insurgents into Afghan society will be formulated at a peace conference next month. From the AP:
Karzai has already extended the government's offer to members of the Taliban who renounce ties to al-Qaida and other terrorist networks and agree to embrace the Afghan constitution. Karzai is finalizing details of a plan to offer jobs, vocational training and other economic incentives to tens of thousands of Taliban foot soldiers willing to switch sides.

Getting top Taliban leaders to the negotiating table, however, may prove difficult. Among other demands, the main Taliban leaders have said foreign troops must leave Afghanistan before they will attend talks.
2:45 PM ET -- Fallen U.S. soldier US Army Specialist Alan. N Dikcis of Niagara Falls died while serving in Afghanistan, according to the Defense Department. Below is a photo from the Associated Press of an army team carrying a transfer case containing his remains at Dover Air Force Base Sunday.
In an article in the Buffalo News said that Dikcis was killed by a roadside bomb. Dikcis was 21. More on Dikcis here and here.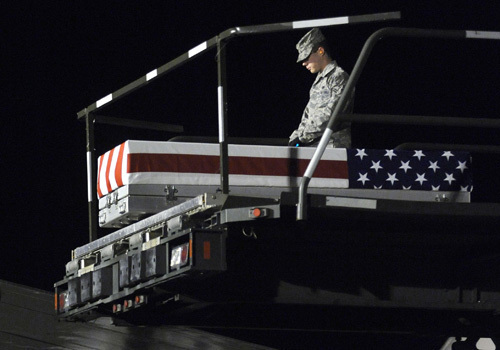 2:20 PM ET -- 5 killed in US drone attack. NBC reports a US drone attack on a house in northwest Pakistan killed at least 5 people, but that no information on the target was available.
9:30 AM ET -- Which Al Qaeda suspect was arrested in Pakistan? A number of news reports Sunday stated that American Adam Yahiye Gadahn, an Al Qaeda spokesman who appeared in a video this weekend calling on Muslims in the US to attack America, had been captured in a raid in Karachi, Pakistan. However, Pakistani and American officials later said they believed that it was not Gadahn who had been captured but Abu Yahya Mujahdeen al-Adam, who, according to the New York Times , was believed to have been born in Pennsylvania and involved with Al Qaeda operations in Afghanistan, though it was unclear whether or not he was an American.
Why the conflicting reports? Blame the resemblance of of al-Adam's name to one of Gadahn's aliases, according to the AP:
"The resemblance of the name initially caused confusion but now they have concluded he is not Gadahn," said an intelligence officer, who like all Pakistani intelligence agents does not allow his name to be used. "He feels proud to be a member of al-Qaida."
U.S. Embassy spokesman Rick Snelsire said the embassy had not been informed of any American being arrested.
A senior U.S military intelligence official said Monday the man arrested does not appear to be Gadahn. The official spoke on condition of anonymity to discuss sensitive Pakistani operations.
On Sunday, two intelligence officers and a senior government official identified the detained man as Gadahn and said he was arrested in recent days. They, too, spoke on condition of anonymity. The government official said his name could not be used because of the sensitivity of the information. None of those officials were available for comment Monday.
The U.S. has offered a $1 million reward for information leading to Gadahn's arrest. He is the first American wanted for treason in over half a century.
9:15 AM ET -- Pakistani Taliban commander may have survived airstrike. It was reported Saturday that Pakistani Taliban commander Faqir Mohammed was among the insurgents killed by a U.S. airstrike Friday in the northwest tribal region of Pakistan. However, a reporter from Reuters says that he has since spoken to Mohammed on the phone, and that Mohammed told him that reports of his death were "just propaganda" and that he was "fine." The reporter claims to have previously spoken with Mohammed, and thus was able to recognize his voice. The reporter says that the purported Mohammed told him, "I was in Bajaur, not Mohmand that day. None of our commanders were killed in the attack. We lost some fighters and women."
9:05 AM ET -- Pakistan government site attacked A suicide bomber struck a building in Lahore used by Pakistan police for interrogations of suspects, killing 12. Details on the blast from the AP:
The explosion went off outside a Punjab province police building, police official Zulfikar Hameed said. TV footage showed a huge crater in the ground where the blast originated. It appeared the suicide bomber rammed a car packed with as much as 1,300 pounds (600 kilograms) of explosives into the building's perimeter wall, officials said.

"This place was used to interrogate important suspects, but presently there was no such suspect, but more than 40 staff were manning the place," Lahore police chief Pervez Rathore said.
SUBSCRIBE TO & FOLLOW WORLD POST