Health Care: LIVE Updates On Vote Today
Today is THE DAY for health care reform, and this page will bring you all the breaking news, tweets, photos, and video, all in one place.
Flip through the latest major news in the slideshow below, or scroll down to the Twitter module below for streaming updates from HuffPost's reporting team as well as members of Congress, top journalists, analysts, and pundits. (Get our Twitter feed directly by following @HuffPolitics.)
Obama: Government still works for the people.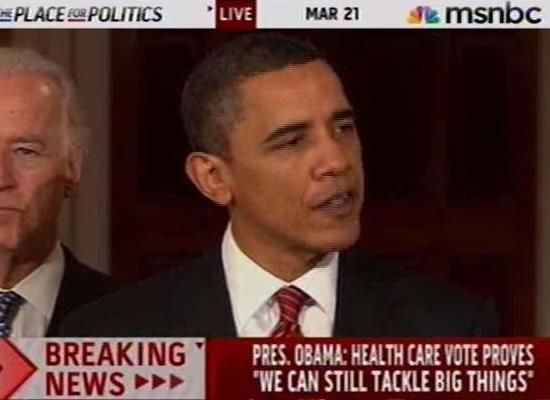 Tom Joad

said on 21 Sunday 2010 pm31 9:34 pm:


To The Republiban Leadership (if one can call it that): You lost this battle and you will continue to lose because you are devoid of ideas. In the 15 months since the new administration has been in power, you have never - not even one time - proposed an alternative solution. You have no ideas. Your political philosophy is moribund. Good bye, Republiban.
Total comments:
4372
|
Post a Comment
Biggest Health Care News Of The Day
Below is our health care-focused Twitter List module. In the left column are key health care policy experts, advocates, and Congressional reporters (including our own HuffPost team of reporters: @RyanGrim, @NicoPitney, @SamSteinHP, @ArthurDelaneyHP, @MichaelPFalcone). Next to that are lists of influential Democratic and Republican pundits and members of Congress.
Subscribe to the HuffPost Hill newsletter!