Correction: Newsmax's cover story "The Jesus Question" is from April 2009.
The editors of Newsmax might be getting a little impatient for the second coming of Christ.
The conservative magazine's latest cover story, "The Jesus Question," is about the son of god's return to earth as prophesied in the Bible.
Jesus is no stranger to newstands. Biblical history interests plenty of readers. Just ask a few magazine editors. But the text accompanying Newsmax's Jesus cover story ("Will He Ever Return?") seems to strike a more plaintive, are-we-there-yet tone, that differs from those of the general interest magazines.
Globalism
Satan shall "deceive the nations which are in the four quarters of the earth," and shall "gather them together" to encircle and attack Israel.
-- Rev. 20: 7-9

The expansion of the European Union; NAFTA and global economics; a U.S. economy flirting with socialism and the election of an internationalist president in Obama.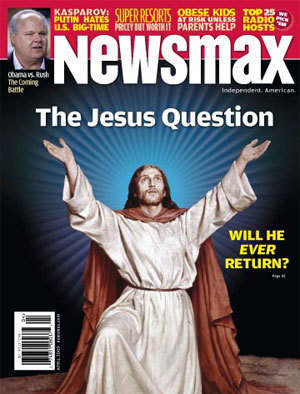 SUBSCRIBE TO & FOLLOW THE MORNING EMAIL
The Morning Email helps you start your workday with everything you need to know: breaking news, entertainment and a dash of fun. Learn more