With Greg Craig Out Of The Way, Coast Is Clear For White House To Make Legal Calls On Political Grounds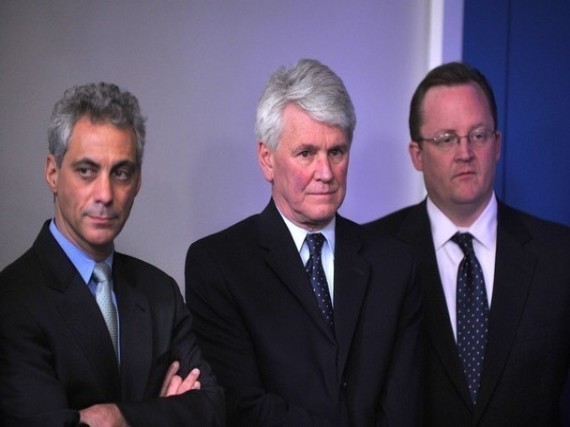 The White House counsel ideally serves as the president's conscience.
But late last year, Barack Obama's conscience was surgically removed.
Greg Craig, as Obama's top lawyer, was the point man on a number of hot-button issues, the fieriest being how to close the prison at Guantanamo Bay. Craig argued for holding fast to the principles that Obama outlined before he became president, regardless of the immediate political consequences -- an idealistic approach that, in a White House filled with increasingly pusillanimous pragmatists, earned him some powerful enemies.
After a steady drip of leaks over a period of months to the Washington Post, the New York Times, the Wall Street Journal and other news outlets to the effect that his days were numbered, Craig finally resigned in November.
He was replaced by Robert Bauer, a politically adept consummate Washington insider whose expertise is in campaign finance law -- in short, a man whose job is to win elections, not defend principles.
At the same time, Attorney General Eric Holder has been increasingly marginalized and cut out of the White House decision-making loop. So now the coast is clear for the White House to make important legal and national security calls on purely political grounds.
The only question that remains is whether Obama himself will have any last-minute qualms about turning his back on his own principles.
We should know in a matter of days, as the White House is expected to announce shortly whether the highest-profile terror suspects, including alleged 9/11 mastermind Khalid Sheikh Muhammad, will be tried in federal court or by military commissions.
Holder decided in November that the trials should take place in federal court in New York City. But concerns about traffic and security eventually led New York lawmakers to oppose the move.
And Republicans -- who are still defending former president George W. Bush's failed attempt to create an alternative legal system for terror suspects -- piled on, accusing any Democrats who favor federal trials for the likes of KSM as evidence that they are soft on terror.
Suddenly, administration officials were on their heels. And, rather than stick up for their attorney general, they started the process of undermining him.
White House Chief of Staff Rahm Emanuel, in particular, has long considered the issue a political loser, and is widely reported to be trying to strike a deal with Sen. Lindsay Graham, a South Carolina Republican, to make it go away: In return for the White House overruling Holder and sending the five most notorious suspects to military commissions, Graham would deliver GOP support for the rest of the White House's plan to close Gitmo.
Emanuel is apparently even wooing Rep. Peter King (R-N.Y.), the bombastic ranking member of the House Homeland Security Committee, who opposes closing Guantanamo and supports a ban on civilian trials of terror suspects. According to the Hill, Emanuel told King that he was "on his side", although King wasn't exactly sure what Emanuel was talking about.
Word of Emanuel's baldly political approach to a weighty moral and legal question, far from provoking outrage within the country's political media elite, has actually inspired a series of fawning profiles. The Washington Post's Dana Milbank set the tone in mid-February by writing that on such matters as the disposition of the terror suspects, "The president would have been better off heeding Emanuel's counsel" as not doing so resulted in "political fiasco."
But decisions about whom the government should prosecute -- and how -- are precisely the kind that shouldn't be made on political grounds. The American justice system is supposed to transcend partisanship, and be beyond the realm of political horsetrading. There are limits to how much the White House should do when it comes to interfering with the Justice Department -- limits that, unfortunately, every modern president seems to push.
And with Bauer serving in Craig's place, the pushback is lacking.
Even White House officials don't disagree that Bauer, who was general counsel for Obama's presidential campaign and chief counsel at the Democratic National Committee, is taking a fundamentally different approach to the job than his predecessor did.
Craig was undeniably opinionated. By contrast, a White House spokesperson told HuffPost: "Bob does not approach the position of White House counsel advocating for a particular set of policy preferences. He thinks that his role as counsel is to give the best legal advice available to the president and to other staff members in the White House."
So he doesn't stake out a position and defend it? "The White House counsel's office has not developed under Bauer a policy recommendation," the spokesperson said. "In the context of any pending legal question or pending policy, what they've done is to outline a range of options given their reading of the opportunities."
The White House did not make Bauer available for comment. And Craig declined several interview requests. But Craig's friends are horrified. Bauer is "becoming a validator and an enabler, rather than someone on the president's staff who keeps him out of trouble," said Steve Clemons, a senior fellow at the New America Foundation.
What Craig did was to try to keep Obama true to his campaign rhetoric about reversing the extremist legal views of the previous administration.
"To Greg Craig, that was a defining characteristic of what the Obama administration was supposed to be about," Clemons said. "He ended up being the guy who kept pulling Obama toward his own moral and legal and political commitments."
Subscribe to the HuffPost Hill newsletter!