White Sox WIN: Beat Cleveland Indians 6-0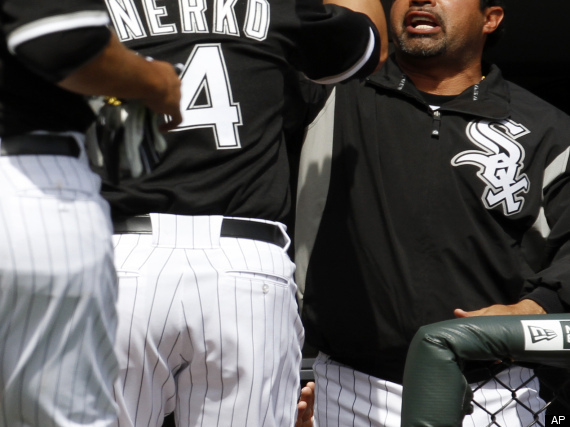 CHICAGO — Mark Buehrle pitched three-hit ball over seven innings, Paul Konerko homered and the Chicago White Sox opened with a 6-0 victory over the Cleveland Indians on Monday.
Konerko got his 12th season in Chicago off to a good start with a two-run drive in the first and Buehrle simply shut down the Indians, spoiling Cleveland manager Manny Acta's debut and Jake Westbrook's first start in nearly two years.
Alex Rios added a solo homer off Tony Sipp in the eighth and ended the game with a diving catch on Travis Hafner's line drive to center.
Buehrle, starting his club-record eighth opener, looked more like the four-time All-Star he is than the guy who won just twice after his perfect game against Tampa Bay on July 23.
He retired the last 10 batters he faced, struck out three and walked one, and drew loud cheers for a spectacular play in the fifth when a hard one-hopper by Lou Marson ricocheted off his left foot into foul territory along the first-base side. Buehrle raced over and – in one motion – shoveled the ball between his legs with his glove to Konerko to retire the runner, one of several highlights for a team that expects to contend in the AL Central after going 79-83.
J.J. Putz pitched the eighth and Matt Thornton retired the side in the ninth.
For Cleveland, the start of the new season looked awfully like the last one – a 65-win disaster that led to Eric Wedge's firing.
Westbrook – back from reconstructive elbow surgery – tied a club record with four wild pitches, hit Carlos Quentin twice, walked four and allowed five runs and five hits in his first start since May 28, 2008. He left trailing 4-0 after walking Konerko to load the bases with none out in the fifth, but the trouble began almost as soon as he took the mound.
Quentin doubled to the right-field corner with two out in the first and Konerko made it 2-0 when he sent the next pitch to the right-field bullpen, just beyond a leaping Shin-Soo Choo. He pumped his fist as he rounded first and took a curtain call as fans chanted "Paulie! Paulie!"
The White Sox got two more in the third after Konerko walked to load the bases, before Gordon Beckham scored on Mark Kotsay's grounder and Quentin came around on a wild pitch to Rios.
Rios, who batted .199 with the White Sox after they claimed him off waivers from Toronto in August, made it 6-0 when he connected off Sipp in the eighth.
NOTES: Sam McDowell (twice) and Steve Hargan previously threw four wild pitches in a game for Cleveland. ... Indians 2B Luis Valbuena sat out with a right hand bruise after being hit by a pitch in Saturday's exhibition finale. "He's just a little sore and we want to be on the conservative side," manager Manny Acta said. "Our medical staff is happy with the progress he's made." Asked if the left-handed-hitting Valbuena would platoon with right-handed Mark Grudzielanek, Acta said: "No. Valbuena's our second baseman." ... Billy Pierce is now second on the White Sox list with seven opening day starts. ... Quentin was hit by a pitch 35 times over the previous two years.
Copyright 2014 The Local Paper. All rights reserved. This material may not be published, broadcast, rewritten or redistributed.