Power Struggle: Inside The Battle For The Soul Of The Democratic Party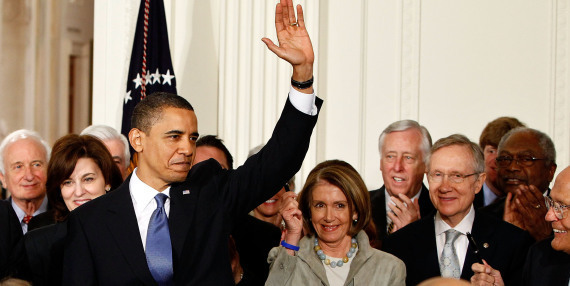 As long as the progressive movement is funneling money to conservatives, the key to future successes is turning grassroots support on the left into serious money -- and spending it electing progressives. And it's only possible if there are other people like Doug Kahn. Kahn is a big Democratic donor and heir to the Annenberg fortune who is sitting out this cycle even though he has donated more than $200,000 to Democratic and DCCC candidates in recent years. "The people who are really liberal, like me, are disgusted. And the ones I've talked to are just saying, 'Forget this'. They're throwing their hands up. They're not going to give money," says Kahn.
In 2008, says Kahn, he asked the DCCC to list candidates who had an outside shot of beating a Republican and weren't currently getting much party backing. He jumped in and gave the maximum contributions. In 2010, he says, he'll spend his money in a different way. "Anger is a real motivator," says Kahn.
The Florida donor plans to spend $100,000 between two districts currently held by Blue Dogs. He'll come in during the last few weeks and spend money educating Democratic voters about the Blue Dogs' record. "I'm convinced that if they know what the voting records of some of these people are -- that is, Blue Dogs -- a significant percentage, a percentage that could beat the Blue Dog, will simply not vote. I might be wrong about that, but I'm going to try it out," says Kahn.
Kahn says he doesn't yet know which districts he'll attack and has no interest in working to defeat a Blue Dog who is already going to lose. He wants Blue Dogs on the edge and he wants to push them off. The purpose, he says, is not to teach those particular dogs a lesson, but "to move the Blue Dogs who are in the House to have some fear of Democratic voters."
Kahn's plan is to donate the money to Howie Klein's Blue America PAC, which is devoted to funding progressive primary candidates, but he's determined to go forward even if the PAC backs out. Following an interview, Kahn emails a reporter: "I want you to understand my commitment to spend the money I was talking about isn't dependent on future events. It's just that I don't know what Howie and his colleagues are going to do this fall and how they'll feel about the election. I expect to spend the $100,000 through their 527, but allow the (remote) possibility that they won't want to do that, in which case I'll do it independently."
The revenge being plotted by Kahn is an extreme response, but it's merely the sharpest expression of donor dismay. In 2006, MoveOn and Big Labor heavily backed Jason Altmire in his western Pennsylvania race. "He was elected with the support of independent groups and he would not have won in 2006 without them," says Matzzie. He followed Altmire's race closely when he was the Washington director of MoveOn because he grew up in Altmire's district. Collectively, MoveOn and the AFL-CIO raised more than a million dollars for Altimire in 2006, the bulk of his money. Progressives in the House, meanwhile, have given him more than $50,000. He turned around and cast a crucial vote against health care reform.
"Certainly, on health care, we had no inclination he was going to do this," says Matzzie. "I can't imagine what he'd have to do [to win back support]. This is a once-in-a-100-years vote."
A similar dynamic is playing out across the country, where Democrats who voted no have found that there is a limit to progressive support. Congressmen like Michael Arcuri, Larry Kissell and Tim Holden have been told, either explicitly or implicitly, by labor and progressive groups, that they are cutting off funds.
Some have already been abandoned. In November, staffers for Suzanne Kosmas were meeting in her Orlando office with representatives of the local AFL-CIO, telling them why she was still undecided on her vote. At the same moment, Kosmas herself was in her Washington office telling Orlando Sentinel reporters why she was voting no.
"After her health care vote, we sort of put her on legislative time-out, as some of our teachers put it," says Stacy Stepanovich, president of the local AFL-CIO. Mike Williams, president of the statewide union, supported the decision. "There will be no more free passes," he says.
Beginning in the 2008 cycle, he says, the union began focusing more on small, local races. In 2010, he says, more than half of its resources will go toward candidates down-ticket. "One of the issues and problems that organized labor has had over the years is concentrating at the top and not the bottom of the ticket, at the local level," he says.
The time-out seems to have made made an impression on Kosmas, who came back better behaved. She flipped and voted yes on the final health care bill. The union plans to meet on April 10 to decide if she has sufficiently rehabilitated herself to remove the dunce cap.
Subscribe to the HuffPost Hill newsletter!