Rockies Rout Padres 7-0 In Home Opener Behind Jorge De La Rosa
DENVER — Jorge De La Rosa pitched seven innings of one-hit ball, and Clint Barmes hit a late three-run homer to lead the Colorado Rockies over the San Diego Padres 7-0 Friday in their home opener.
Ian Stewart drove in two runs, and Todd Helton and Miguel Olivo each added run-scoring singles to help the Rockies stop a two-game skid.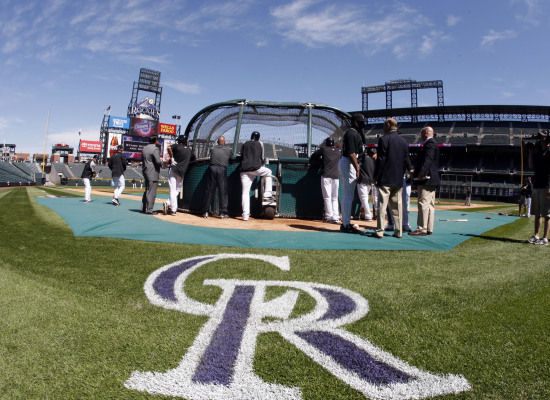 Total comments:
1
|
Post a Comment
De La Rosa (1-0) kept the Padres off balance with a fastball that consistently reached 94 mph. The lefty struck out nine and enticed San Diego to roll into 10 groundball outs.
Rafael Betancourt pitched a scoreless eighth – giving up just the second hit of the game – and Esmil Rogers finished.
A Coors Field regular-season record crowd of 49,509 was the Rockies improve to 11-7 in home openers.
De La Rosa won in April for the first time since 2007 with the Kansas City Royals. He failed to win in his first 10 outings last year, then went on to set career highs in wins (16) and strikeouts (193).
San Diego had a potential rally in the fourth, when Kyle Blanks was hit by a pitch and Chase Headley followed with a single that trickled through the right side. But De La Rosa struck out Scott Hairston to end the threat.
Clayton Richard (0-1) alloed three runs and seven hits in seven innings for San Diego. Richard was acquired in the deal that sent Jake Peavy to the Chicago White Sox last July.
Colorado broke open a tight game with four runs in the eighth. Olivo had an RBI single and Barmes followed with a drive to left for his first homer this season.
Stewart put the Rockies ahead with a two-run, broken-bat single in the fourth. He is hitting .357 with five RBIs.
NOTES: Padres RHP Chris Young will miss his next scheduled start with tightness in his right shoulder. He was slated to pitch Monday against Atlanta. Righty Kevin Correia will take his place. The 30-year-old Young had arthroscopic shoulder surgery last August. ... San Diego LHP Joe Thatcher will throw an inning on Saturday for Triple A-Portland. Thatcher is on the 15-day DL with a strained left shoulder. ... Padres 1B Adrian Gonzalez was agitated after he wasn't awarded first base on a pitch he thought grazed him in the opening inning. Gonzalez argued for several minutes with plate umpire Mike DiMuro before striking out.