Love magazine recently posted this picture of Louis Vuitton's Fall-Winter 2010 show cast, featuring its 50 or so models (including Elle Macpherson, Rosie Huntington-Whiteley, Bar Refaeli, Adriana Lima, Laetitia Casta, Lara Stone and Coco Rocha) without makeup--a veritable celebration of the fresh-faced look.
Also: See Heidi Klum without makeup.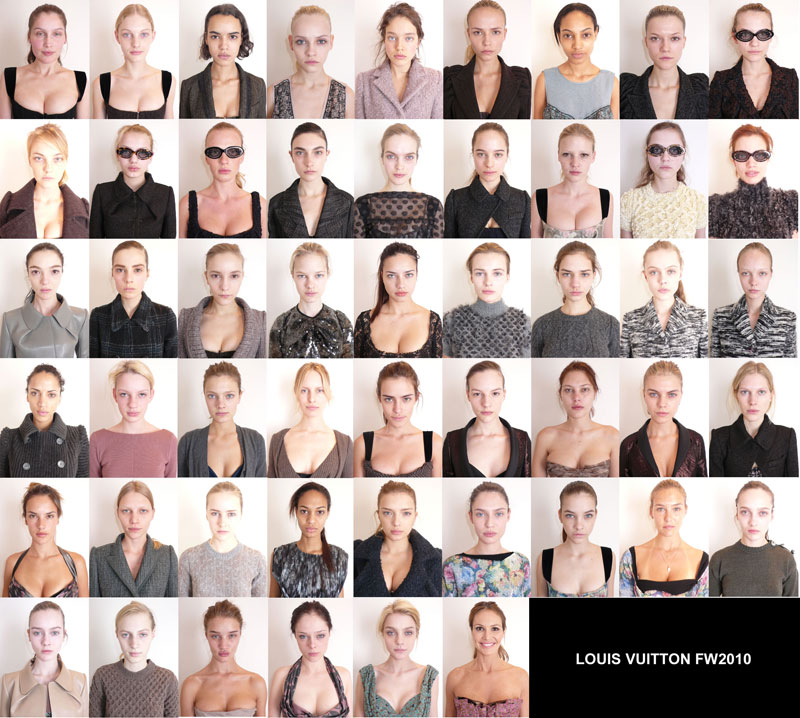 However, while we are rejoicing, the majority male audience at Reddit had some harsh words for the bevy of beauties, like, "Seriously, though--how many of them have enormous foreheads and huge eyes? A lot of them are not attractive sans makeup. Their faces look smooshed; they're too damn skinny. Put down the coke straw and eat a cheeseburger, ladies!" and the more poetic "coke, coke, coke ,coke, heroine, coke, heroine, heeeey that one is smiling..., coke, heroine, heroine, coke, ..."
For more on that, head over to Jezebel.