*See photo and update below.*
Chris Wittwer, Britain's 'Facebook Vigilante' has created a Facebook database of nearly 6,000 registered sex offenders.
Wittwer, 34, spent two years compiling names, mugshots, newspaper reports, and court records from counties all across Britain, the Telegraph reports. The Exeter warehouse worker has attracted 18,000 followers to his 44 Facebook groups.
Although Wittwer's first Facebook group was shut down by local authorities, he explains (via The Sun) that he was able to continue after he proved "No hearsay or unconfirmed allegations go on the site. That's how I've been able to continue legally."
Wittwer went on to say of his undertaking:
I feel really proud - it's quite an achievement and if it helps people spot sex offenders living in their area, who are a known risk to children, then I've done a good thing. [...]

But it's not a question of being a hate mob - it's the simple fact that on the national sex offenders register you can access some information but you can't see the faces of those who commit the crimes. [...]

With my groups you can see the picture of the offender, their name, the date of their offence and where they were resident at the time.
Wittwer told a Daily Mail reporter that the idea for his project came when he was working at a pub and learned that one of the regular customers had molested a child. He was "sickened," he said, and he wanted some way to help. His answer was spending "every waking moment" on a massive directory of sex offenders, with a target on pedophiles.
While the groups raise questions about the offenders' rights to privacy, a Facebook spokesperson maintains that the groups don't violate Facebook policy, since the information already exists in the public domain.
"We want Facebook to be a place where people can openly discuss issues and express their views, while respecting the rights and feeling of others," the unnamed representative told the Daily Mail. "It is within the terms of the site for users to express their views about a public figure, which includes views about someone who has been convicted of a crime and details related to the crime that are freely available in the media."
The screenshot below is from Wittwer's Kent County group, which has over 4,000 members and 200 photos.
Members of the group have expressed support for Wittwer's project, posting strongly-worded criticism of the offenders listed on the page. One user wrote, "This site is a necessary one for all of us who are concerned about the sick individuals who prey on innocent children."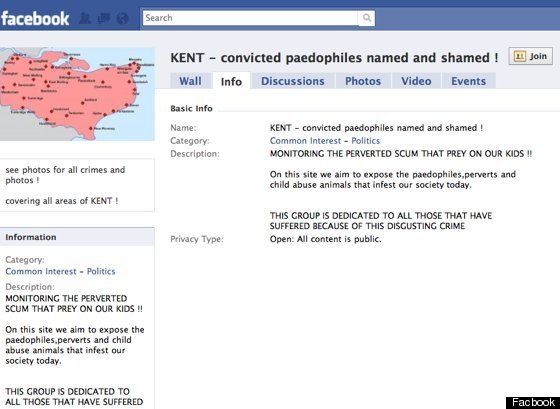 UPDATE: Wittwer's Facebook pages appear to have been disabled. The Rat Book, which describes itself as a "name and shame" organization, offers related UK crime information.

SUBSCRIBE TO & FOLLOW THE MORNING EMAIL
The Morning Email helps you start your workday with everything you need to know: breaking news, entertainment and a dash of fun. Learn more