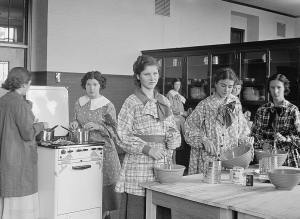 Comments are turned off on this entry so your responses to the right can flow into the Mother's Day slideshow. Leave your mom's best...anything...there, by clicking the "Participate" button.
If you don't have a photo to use, that's no problem, just go ahead and upload a dummy photo like this one so your submission will take.
Email huffpostfood@gmail.com with any questions.
Happy Mother's Day! And thank you to everyone for participating.
loilaing:My Mother has taught Food & Nutrition for over 30 years and is the most creative person I know. She is a master in the kitchen and always makes everything from scratch. She taught me to make food look good or nobody will want to eat it. It's because of her that I am so passionate about food. This is one of her fruit displays.

mymansbelly:My favorite thing mom made while growing up was strawberry rhubarb pie. Her pie crust is amazing. I'm not as talented in that department, so I skip that and just make the strawberry rhubarb sauce filling (which is/was my favorite part). Thanks for teaching me to make this mom!

JohnnyRingo:When I was a very young boy, my mother taught me how to make only one dish. I didn't learn until her passing in my early 20s the importance of the classic grilled cheese & tomato soup. During the recession of the 1970s, with no income, I realized there was no less expensive and more nutritious meal. A can of tomato soup and a loaf of bread could be had for less than a dollar, and the government supplied the cheese. When my dairy subsidies ran out, I discovered a package of Kraft singles fit nicely in an inside jacket pocket. I can tell you, that after two or three weeks it becomes a dreadfully boring meal, but it kept me alive during desperately hard times. My Mom, who was raised amid the Great Depression, was a very resourceful woman and I'll always love and miss her.

Steamboater:Whenever I made latkes, they always came out grey inside. My mom's latkes never did. They were white or yellowish. I asked her what I was doing wrong and she said that starch made latkes grey, and that the key to getting the grey out was to grate the potatos in a bowl of water so that the starch remains on the bottom of the bowl. Use a wooden bowl too :). So I took her advice and it worked. Now my latkes are no longer grey. Hmmm...maybe I have too much starch in my hair too.

mbothsd:We moved to CA when I was a kid and Mom fell in love, first with Mexican food, then with my step-Dad, who taught her this dish. (Photo from Flickr: gamene)

landskroon:All my youth I have been spoiled (some things were less successful) with the best of food. One thing that came back on every meal was simple: "make your own stuff." Don't buy the expensive pre-packed or prepared foods or food with additives. Go to the market and buy unpacked herbs and spices. Prepare, make, and cook and bake all your own food. The prepared food in the freezer of the supermarket contain sometimes 50 ingrediënts, many with names no one knows. My biggest meal just had 10 with names everyone knows. The food companies also mix a lot of stuff that actually poisons you. And their products have explosive amounts of calories. Please go back to basics and get your health back, for free!! Best Regards, Hans Landskroon

Xiane:My Mother played a lot of pranks on teachers and neighbors in her early days. And every time my Grandmother had rebuked her daughter, she felt pity with Lilly just a short while after. And so she used to sneak into Lilly's bedroom in the night and put a spoonful of sugar on her daughter's bedside table. Sugar (as white bread) was rare at that time. Later, my Mother still regarded sugar to be something valuable -- even when we already enjoyed a better life and the "economic miracle" in Germany. Fortunately, I was a good kid. I rarely thought of playing jokes on anyone, and so my Mother did not often revert to the family tradition of sweetening a conflict in this way. No, she did not use sweets for rewards, too. Today, I thank her for the lack of bedtime candies in my childhood -- it was very good for my health.

mainemomma:I learned to cook from my mothers Betty Crocker cookbook that she recommended as a high school graduation present. She was a busy working mom... even back in the 60's and 70's. But we ate well, and she baked her own bread when she could. I loved the cookbook, with the tips and pictures. My first recipe was Black Midnight Cake. Mom's advice was to always follow the recipe, and understand it. That way, you could adapt with abandon, keeping in mind key principles (ratio of fat to liquid/flour etc). Today, we still cook together, her latest passion is sourdough baking. I have 'helga' in my fridge... feed her weekly, and mom is having a ball.

Kimberly Limon:I have incredibly fond memories from my childhood of all of the amazing baked goods my mom whipped up in the kitchen. From waking up to a warm loaf of moist strawberry bread, to coming home from school to find chocolate chip cookie dough set aside in the fridge, to delicious blueberry muffins and popovers with dinner, she was always surprising us with something sweet. She helped me discover what a joy baking can be and today I myself take great pleasure in bringing happiness to others through such edible treats (cupcakes in particular!).

jam754:My mom handed down her love for homemade soups to me. Soups are hearty, generally low calorie, and easy to prepare. My new favorite is this new Manhattan Clam Chowder recipe. I'm going to make some today and share it with my mom. It's her new favorite too.

LunaNik:My mom taught me an easy recipe for entertaining that can be varied to suit any taste. Soften 8 ounces of cream cheese and blend it with 6 ounces of grated cheese of your choice. Stir in herbs, spices, and flavorings of your choice. On the left: fresh basil, garlic, cracked black pepper, and a blend of hard Italian cheeses (parmigiano reggiano, pecorino romano, and asiago) On the right: fresh cilantro, chipotle, and sharp cheddar

pipnestella:Growing up in a traditional Asian family, my mother always made sure there was food every single day on the table by 6.30pm. She worked 7 days a week, 9 hours a day but that did not deter her from making sure we always had a traditional Chinese dinner that consist of rice, soup, vegetables and some type of seafood, usually fish. She never said much whenever I complained about wanting to eat mac & cheese or wanting a hamburger. Instead, she would always say I would understand it someday when I grow up. I never did appreciate her efforts or realized how much work went into it until I became a mother. She taught me the values of knowing who you are and your own culture through food and the importance of a daily sit down meal. She showed her love for us through her food. My daughter is going to grow up someday and do the same for her children.

Inlude your mom's lasting tip, trick, or dish here.