Joslyn James Porn: Tiger Woods' '11th Hole' Porno Nears Debut
Joslyn James' strip shows are no longer the raunchiest way to see one of Tiger Woods' alleged porn star mistress. The adult actress (PHOTOS), who says Woods twice impregnated her, is set to star in a new porn film that "will depict never-before-told intimate details of her three-year relationship with the golf champion," a press release promises.
According to the release, the steamy film is called "The Eleventh Hole" and will feature the extremely graphic text messages that James says Woods sent her. "The movie will take viewers behind the Tiger Woods headlines" and will present the plot "in sensual and graphic terms," the press release says.
James has previously stripped near the sites of Tiger Woods' first two tournaments since his return to professional golf.
A Thursday tweet from James suggested that she may be currently working on the film's production or promotion. Scroll down to see the movie cover photo as well as the full press release.
LOOK: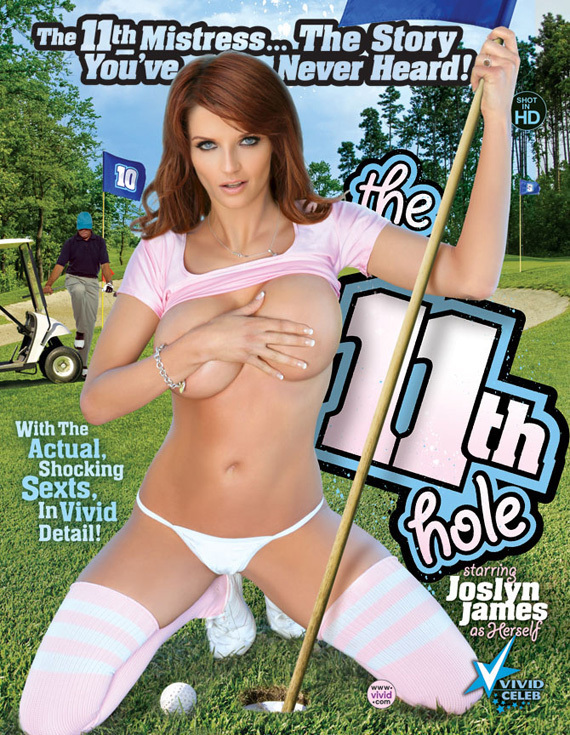 At the Vivid office going over some pix yippieless than a minute ago via Twitter for BlackBerry®
Joslyn James
Joslyn_James
LOS ANGELES -- Vivid Entertainment, the world's leading adult film studio, has signed a contract with one-time Tiger Woods mistress Joslyn James to make "The Eleventh Hole," a movie that will depict never-before-told intimate details of her three-year relationship with the golf champion.

The movie will take viewers behind the Tiger Woods headlines, gossip columns and texting to capture the most secret fine points about James' affair with the golf icon.

In sensual and graphic terms, viewers will learn the between-the-sheets story behind the personal texts Woods sent to James.

The movie will be released under the studio's Vivid-Celeb imprint, which has earned fame and notoriety for popular movies featuring celebrities having sex, from Pamela Anderson and Tommy Lee to Kim Kardashian, former Miss USA Kelli McCarty and Playboy Playmate and reality TV star Shauna Sand.

James, also known as Veronica Siwik-Daniels, carried on a long-running affair with Woods after meeting him at The Bellagio resort in Las Vegas. She has disclosed numerous steamy text messages the two exchanged to arrange their trysts.

"Even at major tournaments we would manage to hook up, and in fact it wasn't unusual for us to have sex four or five times a day," she said in a recent interview.

Steven Hirsch, founder and co-chairman of Vivid, said he anticipates "a great demand for this film because we think it will tell the real story behind Woods' voracious sexual appetite and the women who satisfied it."

Joslyn recently consulted with Vivid when the studio held open auditions for the role of Tiger Woods in her upcoming movie which is expected to be released on May 17th.
Women linked to Tiger Woods
Raychel Coudriet, the daughter of Woods' neighbor, met the golfer when she was just 14.
Devon James is a "porn queen" whose alleged escort listing contained plenty of naked pictures.
Emma Rotherham allegedly had early-morning sex on Woods' office couch. Tiger reportedly loved to see her in black stockings and suspenders.
Jaimee Grubbs (PHOTOS) saved a voicemail from her lover, as well as steamy text messages. Jaimee stripped down for two magazines (sexy PHOTOS).
Jamie Jungers (PHOTOS) says she and Tiger had "wild" and "crazy" sex against a wall. She also claims to have slept with Woods the night his father died. Jungers, who allegedly once worked as a stripper, parlayed her newfound fame into jobs pitching vodka and an auction web site. She also appeared on the Today show and Dateline.
Julie Postle (PHOTOS) allegedly met Woods when she worked as a cocktail waitress in Orlando. Tiger was reportedly "obsessed" with Postle and "really hunted" her. She was also photographed in a bikini.
Susie Ogren says she took ecstasy with Tiger and he hoped "to get me into bed."
Rachel Uchitel (PHOTOS) was the first of Tiger's alleged mistresses. Woods reportedly emailed her once to say that "I finally found someone I connect with." In another alleged email, Woods shared a steamy fantasy of Uchitel simultaneously having sex with Derek Jeter and Bones star David Boreanaz. A National Enquirer source called Uchitel a "celebrity whore."
Loredana Jolie, a Playboy model, was allegedly "one of [Tiger's] favorites." She is planning a book that will spill the beans on Woods' alleged sexual encounters with men.
Theresa Rogers has been described as a "cougar" who allegedly boasted that she taught Tiger "everything he needed to know to be a great lover." She reportedly conceived a baby while she was seeing Woods, but an article suggests she believes the father is a Serbian basketball player she was also seeing at the time. According to another article, Woods told Rogers that he only married Elin Nordegren to boost his image. The 40-something Rogers may have negotiated a payoff in exchange for her silence.
Joslyn James is a porn star (PHOTOS, VIDEO) who has starred in films such as Porn Star Brides and MIA - Milfs In Action. She is also wanted in Washington state.
Holly Sampson is a porn star (NSFW pictures, video) whose films include Descent Into Bondage and Diary of a Horny Housewife. She may have worked as an escort (NSFW) and appeared in a video in which she describes her "amazing" sex with Tiger Woods. In another article, she spoke about the "sensual, beautiful experience."