A weekly rundown of the week's big losers from around the city and state. Vote for the biggest loser, and be sure to check out the week's winners.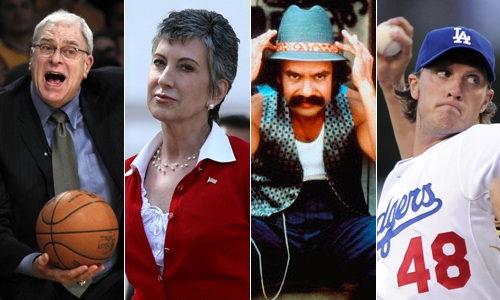 Phil Jackson
While his Lakers are looking better after a shakey first playoff round, Phil Jackson drew some fire this week for his stand on Arizona's controversial new immigration laws. In particular, Jackson condemned the Phoenix Suns for changing their Jerseys to read "Los Suns" in protest of the new laws. Said Jackson: "Am I crazy, or am I the only one that heard [the legislature] say 'we just took the United States immigration law and adapted it to our state, I don't think teams should get involved in the political stuff. And I think this one's still kind of coming out to balance as to how it's going to be favorably looked upon by our public. If I heard it right the American people are really for stronger immigration laws, if I'm not mistaken."
Carly Fiorina
This might well be remembered as the week in which Fiorina's campaign ran out of steam.
As TPM put it: "On paper, she's a superstar candidate: a self-made CEO of a Fortune 500 company, rumored to be on the list for vice president in 2008 and a cancer survivor who has turned her battle with the disease into a compelling personal story. Yet as the June 8 California GOP Senate primary fight shifts into high-gear, it's becoming increasingly clear that Carly Fiorina is not the candidate to watch." Adding insult to injury, the California Democratic Party pulled a "reverse demon sheep" with a new ad portraying Fiorina as a "sheepish diva who's destroyed companies while getting wealthy".
Marijuana Smokers
This week was a big step back for advocates of medical marijuana, as the city began sending notices to 439 marijuana dispensaries that they must shut their doors by June 7. The new ordinance requires disoensaries to be 1,000 feet from where children congregate.
The Dodgers
While neither McCourt got what they wanted in today's divorce settlement, the real losers in this battle look to be the Dodgers and their fans. The team is off to a trainwreck of a start, and find themselves in last place in the NL West. As LAist's Jimmy Bramlett put it: "With the deadly combination of injured players, inconsistent starters, hold-you-breath bullpen and I'm-afraid-to-watch-this defense, it's hard to see how this ship stops teetering any time soon."
SUBSCRIBE AND FOLLOW
Get top stories and blog posts emailed to me each day. Newsletters may offer personalized content or advertisements.
Learn more