Media LOSERS Of The Week (PHOTOS, POLL)
It may be a rough weekend for some members of the media who are coming off cringe-worthy weeks. Below, check out the first installment of Media Losers of the Week, and vote on who you think is the week's biggest loser. And check out the Media Winners of the Week here.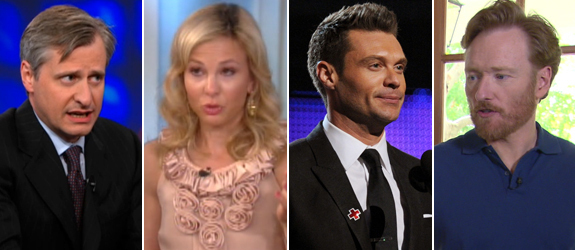 Jon Meacham
It was supposed to be a good week for the Newsweek editor, who's launching a new show with Allison Stewart on PBS called "Need To Know." But then the Washington Post announced it would be selling his magazine, leading the history buff to go on a sad-sack media tour explaining why the world needs Newsweek. Unfortunately, many of his staffers are now saying that Newsweek needs a new editor.
Elisabeth Hasselbeck
The conservative "View" co-host brought ESPN anchor and "Dancing with the Stars" contestant Erin Andrews to tears this week by lashing out over Andrews' skimpy dancewear and seeming to side with the stalker who peeped into her hotel room to see her naked. She cried the next day, offering up a tearful public apology for her comments.
American Idol
It's still the #1 show in the country, but there were big and dangerous warning signs for "Idol" this week: on both Tuesday and Wednesday, it hit ratings lows it hasn't seen since 2002, the year it launched (in the summer, no less). It may have just been a boring Frank Sinatra theme week, With Simon Cowell gearing up to leave at the end of this season already, it doesn't bode well for the show's future.
Conan O'Brien
Yes, he made his case on "60 Minutes" — but it may have backfired. The more time he spends complaining about how Big Bad Leno stole the "Tonight Show" from him, the less America remembers why they loved him on it...and the less they look forward to his launch this fall on TBS. Plus, NBC made a splash by saying that he lied during the "60 Minutes" interview.