What started out as a fairly slow (and very dreary) week ended up being quite dramatic. We suppose that is what happens when Sarah Palin comes to town. As usual, it's easier to find losers than winners when the state budget is in shambles and everyone seems dead set on abusing their power, but hey--we're not all bad. Check out the this week's Chicago Winners of the Week, and vote on who you think is the week's biggest winner. The losers can be found here.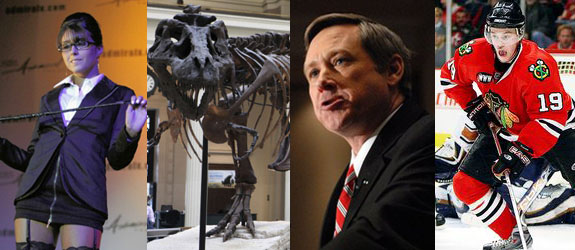 Mark Kirk
Sure, he made the loser list last week, but we think the Republican Senate candidate made a few wise moves this week. Instead of attending Sarah Palin's GOP fundraiser and Obama bash-a-thon, he decided to stay in Washington and do his job--and prove to his critics that he is still a pretty moderate Republican. While in Washington, he sponsored a resolution in Congress asking the Malawian government to release two gay men imprisoned for "committing acts of gross indecency with another male person." His co-sponsor was openly gay Wisconsin Rep. Tammy Baldwin. The resolution also urges the African nation "to urgently address the pervasive violation of human rights in Malawi and the criminalization of conduct by consenting adults."
Eloah Rocha
The Brazilian stripper who goes by the stage name of "Bia" took home the grand prize in the Sarah Palin Lookalike Contest at the Admiral Theatre Wednesday. The event took place as the real Sarah Palin spoke to fans in suburban Rosemont. Bia, whose "corporate dominatrix" Palin-look wowed the crowd, went home $2,500 richer--and though naked, her performance was likely less offensive than Palin herself.
Chicago Blackhawks
The Chicago Blackhawks have had an amazing season, and are being lauded as "an emerging powerhouse" in the hockey world. While we will surely be disappointed by baseball this year, perhaps the Hawks can bring home a Stanley Cup for the first time since 1961.
Sue The T. Rex
After ten years, the 67-million-year-old fossil is still wooing Chicago crowds. The folks at the Field Museum have also made Sue's Twitter account one of the funniest around. This month, Sue will be celebrated with parties, a 3-D movie and a visit from fossil hunter Sue Hendrickson, who discovered Sue in South Dakota.