A weekly rundown of the week's big losers from around the city and state. Vote for the biggest loser, and be sure to check out the week's LA Winners of the Week.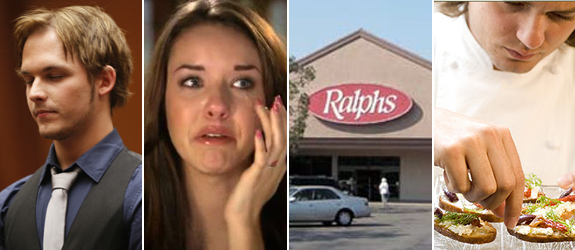 Bling Ring Bad Boys and Girls
Facing a possible 6 years in state prison for her role in the burglary of Orlando Bloom's home, Bling Ring teen Alexis Nelers agreed to a plea deal that includes a 6 month jail sentence, hundreds of thousands of dollars in restitution and three years probation. Later in the week, a Los Angeles Superior Court Judge rejected a bid by alleged bling ring leader Nicholas Prugo to force prosecutors to give him a favorable plea deal in exchange for his cooperation.
Ralphs Supermarket
Los Angeles County Officials Tuesday charged Ralphs Supermarket Chain with overcharging customers, false advertising, and false labeling. A company spokesperson assured the press that any discrepancies were unintentional. Ralphs was scrutinized for similar practices in 2000 and 2008.
LA Foodies
Although they can drown their sorrows with a Stormy Weather (black rum, fresh lime, ginger syrup and soda) or console themselves with the Steak Frites at his cozy bistro Comme CA, LA foodies are loosing a good one this week with the closing of David Meyer's Sona, the fashionable La Cienega restaurant with devoted fans and a Michelin star.
SUBSCRIBE AND FOLLOW
Get top stories and blog posts emailed to me each day. Newsletters may offer personalized content or advertisements.
Learn more