New York is full of winners... and of losers. Each week HuffPost New York will be praising those who ended up ahead and calling out those who fell behind. Check out this week's LOSERS below, and the WINNERS here.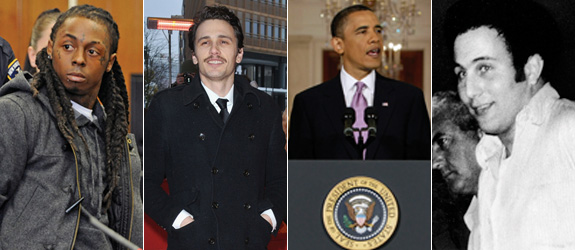 Lil Wayne
Lil Wayne, granted not a New Yorker by choice, was caught hiding contraband in a bag of potato chips by jail guards. The hip hop star marred his good behavior and possibly jeopardized an earlier release date.
James Franco
The actor may be one of New York's most talked about celebs (this week alone he made headlines for his MoMA appearance and for his piece in the Wall Street Journal), but that doesn't mean he's a good student. According to reports, his NYU thesis project film was a mess of male genitalia and pee shots. Yikes!
President Obama
Less than two weeks after a car bomb attempt in Times Square, the Obama administration cut anti-terror funding to New York City by 27%.
David Berkowitz
The serial killer was once again denied parole. Berkowitz, now a Jew for Jesus, is serving six life sentences for his crimes in the 70s.