Immigration Politics Take Center-Court In Lakers Playoff Series
Immigration politics have taken center-court as the Lakers face off against the Phoenix Suns in the NBA Western Conference finals. Last night's series opener at the Staples Center was the scene of largely peaceful protests by immigration rights advocates, in response to Phil Jackson's comments on Arizona's controversial new laws. Even Kobe Bryant's wife Vanessa entered the fray, sporting a shirt reading "Do I Look Illegal?"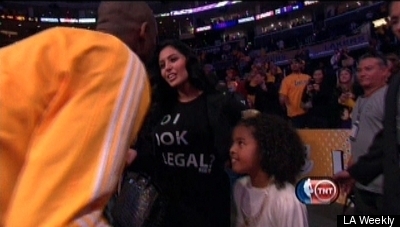 The political posturing was not confined to the Staples center. CBS 2 reports on Mayor Villaraigosa's proposed wager with Arizona for the playoff series:
In a letter this week to Phoenix Mayor Phil Gordon, Villaraigosa says Los Angeles will accept ownership of Maricopa County Sheriff Joseph Arpaio if the Suns win. Villaraigosa says a stint in Los Angeles would teach him that a person's immigration status can't be judged by appearance.

If the Lakers win the Western Conference finals, Villaraigosa says Arizona can have California gubernatorial candidates Steve Poizner and Meg Whitman. Both have ads promising to get tough on illegal immigration.
Jackson distanced himself from his earlier statements yesterday, expressing his "support for those who oppose the new Arizona immigration law"
WATCH Ed Schultz discuss the politics behind the series on MSNBC's "The Ed Show"