Sophie Theallet Gap Collection Includes Near Copy Of Michelle Obama Dress (PHOTOS)
Fans of Michelle Obama's fashion are now be able to pick up a near-copy of the dress she donned last summer in Ghana. Designed by Sophie Theallet for The Gap, a winner of this year's CFDA/Vogue Fashion Fund competition, the frock will be unveiled today at the Gap's concept store at Fifth Avenue and 53rd Street in NYC, WWD reports.
Theallet said she was inspired to "make beautiful dresses that would give [a hint to the Gap customer] what Sophie Theallet is all about. They're easy to wear and they're happy and colorful for summer." The designs are not far afield from those in her regular line, but are constructed from fabrics with a "more accessible" price, such as cotton. The finishing is also different and is produced by machine rather than by hand. As a result, a gathered top dress or a ruffle-tier dress are $248, a tie-front dress or a skirt is $198, and a tie-front top is $148.
Here's a sketch of Theallet's dress: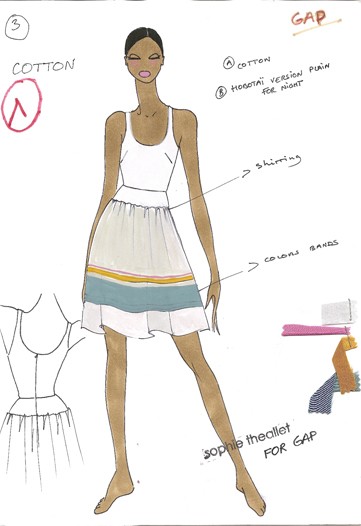 Michelle Obama photographed wearing Theallet's original design on July 11, 2009: