Karl Lagerfeld was awarded France's Legion of Honor at the Elysee palace on Thursday, and was also treated to a surprise garden party by French President Nicolas Sarkozy and his wife Carla Bruni, WWD reports.
Lagerfeld and Bruni are old friends--he's even photographed the former supermodel nude. But Sarkozy was totally at ease. He joked about the demanding fashion show calendar, saying, "A world where there is an election every six months--I feel for you: Horrible, horrible, horrible." He also told the Kaiser, "Frankly, I really enjoy your company because next to you, I feel calm, quiet and a bit of a drudge."
Lagerfeld was humble upon receiving the award. He remarked, "If it wasn't for 99 percent of the people in this room, it would all amount to nothing. So in fact, this is for me but it is also for all of you."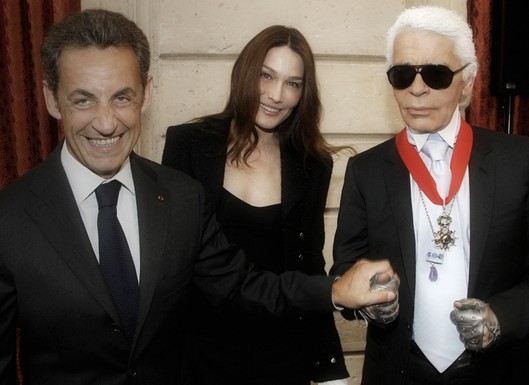 FOLLOW HUFFPOST