French Interior Minister FINED For Anti-Arab Remarks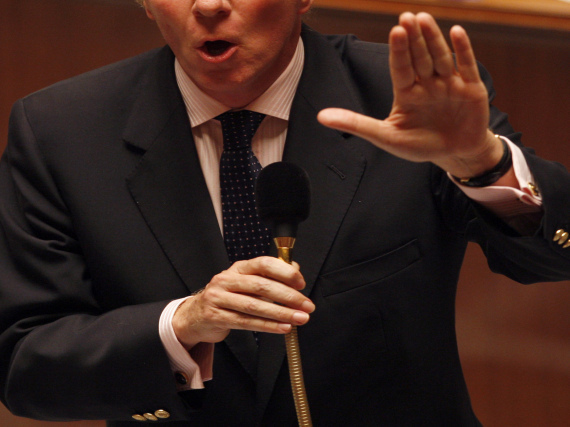 PARIS — France's top law enforcement official was convicted Friday of making racist comments and ordered to pay compensation in an controversy that prompted calls for his resignation – calls ignored by his longtime friend and boss, President Nicolas Sarkozy.
Interior Minister Brice Hortefeux's lawyer said he would appeal the conviction in a Paris court for "private insults of a racial nature." He was also fined euro750 ($900) and ordered to pay euro2,000 ($2,400) to an anti-racism group.
Hortefeux was caught on camera last year making what sounded like anti-Arab remarks, prompting calls for his resignation and lawsuits by anti-racism groups. Hortefeux insists his words were innocent and misconstrued.
It has been an ugly controversy for Hortefeux, a former immigration minister in a country where tensions between minority youth and police occasionally erupt in violence. Hortefeux has pushed to keep out and expel illegal immigrants.
A video circulating on the Internet showed Hortefeux at an event last September in southwest France for the governing UMP party, having his picture taken with a young party member of North African origin.
A woman's voice is heard saying "it's our little Arab," and Hortefeux is heard saying: "We always need one. When there's one, that's all right. It's when there are a lot of them that there are problems."
Hortefeux's office said later the remark was a reference to the many photos taken at the event. The incident occurred shortly after Hortefeux suspended a top regional official for racist comments.
Hortefeux's comment "is incontestably offensive, if not contemptuous, for the people concerned," the court said in its ruling Friday, adding that the minister's body language shows he "did not want to be heard by others beyond this circle of friends."
The lawyer for the anti-racism group MRAP, Pierre Mairat, hailed the ruling.
"These are inadmissible remarks," he said.
Copyright 2014 The Local Paper. All rights reserved. This material may not be published, broadcast, rewritten or redistributed.