EDITOR'S NOTE: The story below includes references to polling conducted by the firm Research 2000. The reliability and accuracy of Research 2000's polling has since been called into serious question by a report published in June 2010 by a group of statistical analysts.
Last night's primary runoff between incumbent Senator Blanche Lincoln and former Arkansas Lieutenant Governor Bill Halter was another great example of the perils of swearing too much fealty to polling. There weren't that many polls conducted between the first primary contest and the runoff, but all of them pointed to a great night for Halter.

[W]e have a couple of important Southern coming primaries coming up: Alabama votes tomorrow, and there are key primaries in Arkansas and South Carolina the following week. How much faith should we put in the polls of these races?

The answer is not very much, especially in the case of Democrats. The chart below lists the average error in polls conducted of party primaries from 2000 to the present day, with the results broken down by party and region.

But the polls have been especially bad in one particular type of primary: that involving Southern Democrats. There, the average error has been slightly over 9 points.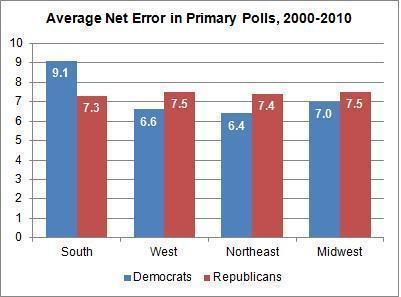 SUBSCRIBE AND FOLLOW
Get top stories and blog posts emailed to me each day. Newsletters may offer personalized content or advertisements.
Learn more