Noemie Lenoir Back To Modeling After Alleged Suicide Attempt (PHOTO)
Model Noemie Lenoir is back in front of cameras after allegedly attempting to commit suicide just one month ago. Model Ana Beatriz Barros posted a picture of herself and Noemie on Twitter, with the text: "Noemi Lenoir [sp] and me shooting Russian Vogue in London."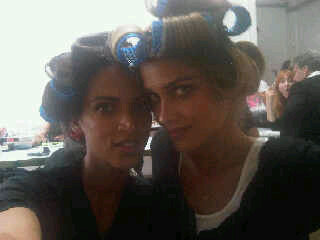 On May 12, Lenoir was found unconscious in a forest in La Celle-Saint-Cloud outside Paris. She was believed to have taken a potentially lethal cocktail of drugs and alcohol and drugs at the home of her on-again, off-again boyfriend, ex-Chelsea football star Claude Makelele. Lenoir had also been experiencing "extreme angst" over her romantic relationship with Carl Hirschmann who is involved in a blackmail, sex, and extortion scandal in his native Switzerland. We're glad to see that she has recovered.