Instead of holding out hope for the career of their dreams, college grads in the Class of 2010 got real, starting their job searches early and accepting whatever came their way. They signed up for the LSATS, applied for Teach for America and scoured Craigslist for openings to avoid the foibles of the preceding class -- debt, dependence, dead-end jobs.
The Washington Post has the statistics to prove it (see below chart for more):
A national survey of about 13,000 graduating seniors found that 39 percent had received job offers and 59 percent of those students accepted them, according to the National Association of Colleges and Employers. That's higher than last year, when 40 percent of seniors got offers but only 45 percent of them accepted. The result is that 24.4 percent of 2010 graduates reported having a job before graduation, up from 19.7 percent of the Class of 2009, according to the survey.

Several career centers saw record numbers of students at the beginning of the school year in September and October: More seniors wanted to start their job search early, more underclassmen wanted to find internships and more out-of-work alumni wanted help.
Still, Marymount University graduate Christina Haley told the Post that few of her friends have actual "career jobs." "We all had seen a couple of years of people graduating and not finding jobs. It put the fear in us to start earlier, to pull strings so that we wouldn't be stuck," she said.
Are you still looking for work, or have you found something suitable? E-mail college@huffingtonpost.com with your story.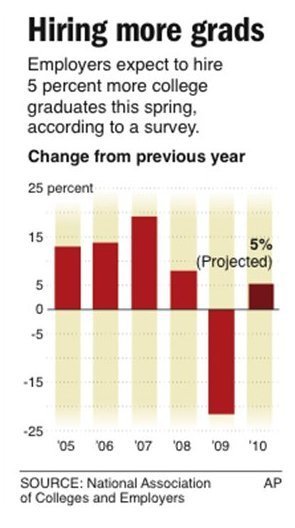 FOLLOW HUFFPOST