Summer Solstice 2010 At Stonehenge (PHOTOS): New Agers, Neo-Pagans Celebrate
Some 20,000 revelers -- mainly New Age and neo-pagan types -- gathered to dance, sing and holler as the sun rose over the prehistoric stone circle Stonehenge on June 21 to mark the 2010 summer solstice.
The first rays of orange and gold were detected at about 4:52 a.m. at the Heel Stone, one of the monument's pockmarked pillars that aligns directly with the rising sun. The sight elicited cheers from the festive, if bleary-eyed, throng, many of whom had been partying all night.
Given the monument's location on Salisbury Plain in southern England, the annual event is occasionally marked by clouds and unpredictable weather. Yet those in attendance this year were rewarded with a clear, crisp morning.
"One time in maybe 10 we get a decent sunrise, and that was a good one," Simon Banton, a 45-year-old education volunteer for English Heritage, the group which manages the site, told reporters.
Featuring bonfires, maypole dances and other rituals, the event harkens back to solstice celebrations that were a highlight of the pre-Christian calendar.
View photos of the solstice celebration here: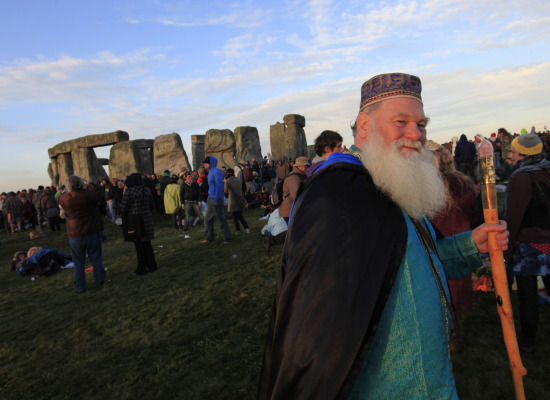 Blue North Wind

said on 27 Sunday 2010 am30 7:15 am:


I honestly can say, that i am deeply disturbed by everyone arguing over the origins of a holiday. I am also deeply disturbed that people are arguing over offensive and non offensive...Yes, the article portrayed pictures of 'hippies' and people 'dressed in costume'...and i'm sure there were plenty of people just there to participate in the 'high order of festivities', but that doesnt mean, that every pagan, pre christian believer is a fake or a pothead...The idea that arguing over such things is irrelevant, considering, non christians (everyone who does not look to one God or Jesus), do indeed live an everyday life, and to live in a world that is (for the most part) a celebrated Christianity. We did not choose this, it grew as time went on. We just live here and celebrate Our ideas, and our thoughts, our wisdom and our beliefs the same way everyone else does..we just dont get any credit anymore. Costume is optional. Many believe, it's a way to get closer to the ancestors who wore the robes in the past. it's not Halloween, and it's not meant to disturb anyone, though as Santa can be offensive to a Jew, or Hindu, can we not understand and respect the thoughts of another's want and need to feel power in an Earth, and show respect to what was here before life? just a thought..basically, respect all around.
Total comments:
275
|
Post a Comment