Dove's 'Real Women' Must Be Naturally Fit With Nice Bodies
Update 6/29: A spokesperson for Dove told Stylelist, "Unfortunately, this casting notice was not approved by the brand or agency team and did not reflect the spirit of the brand team's vision. We appreciate that this has been brought to our attention, and we are taking the necessary steps to prevent this from happening in the future. We believe our images demonstrate that real beauty comes in many shapes, sizes, colors and ages and we remain committed to featuring realistic and attainable images of beauty in all our advertising."
---
Dove's "Real Beauty" campaign touts itself as the "global effort launched in 2004 to serve as a starting point for societal change and act as a catalyst for widening the definition and discussion of beauty," and as supporting the DOVE mission: "to make more women feel beautiful every day by widening stereotypical views of beauty." But a Jezebel tipster came across a Craigslist ad announcing a print casting call that illustrates the exact width of Dove's view of beauty.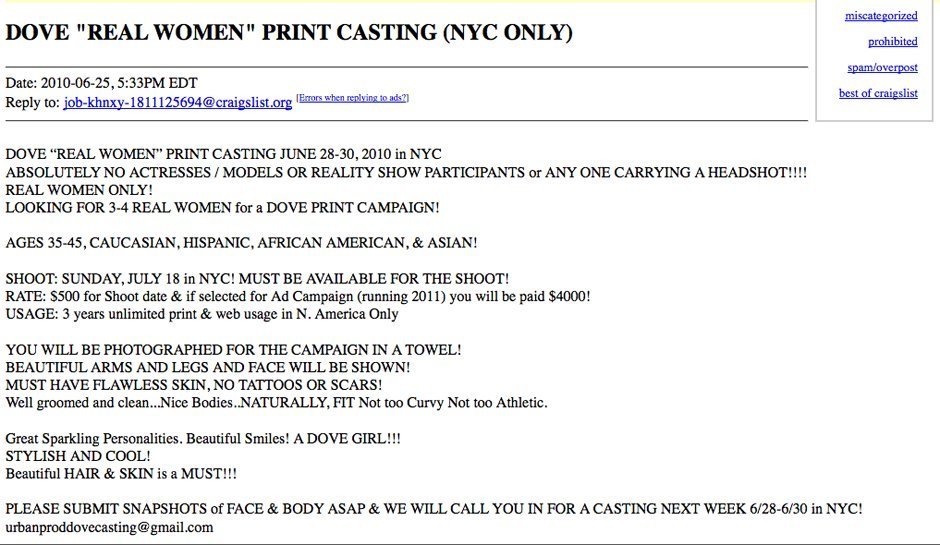 What do you think?