Football season is still more than a month away, and Seattle Seahawks coach Pete Carroll is on the road promoting the paperback edition of his book "Win Forever." The controversial coach who has a history of putting Twitter to bizarre use did it again, posting a photo of his latest promotional technique. The former USC head coach carved his book title into a bathroom stall restaurant booth, tweeting, "We left our mark in the back corner booth at @burgerjointnyc..."
Scroll down for the photo.
(UPDATE: The restaurant in question welcomes visitors to add their own message to the booths.)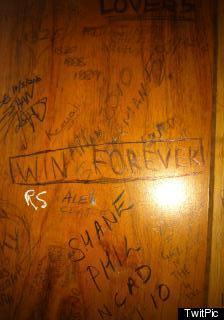 SUBSCRIBE AND FOLLOW
Get top stories and blog posts emailed to me each day. Newsletters may offer personalized content or advertisements.
Learn more