Good morning, ladies and gentlemen and welcome to you Sunday Morning Liveblog, which we will get started sans preamble this morning. As always, you are invited to share comments with one another, or to send emails, or to experience the majesty and/or mystery of following me on Twitter. First Read at MSNBC is going to liveblogging Meet The Press today, an adorable idea they stole from This Week! So, if you want to read a terrible Meet The Press liveblog instead of this good one, now you have "options." Hard and fast rule for the comments today: DO NOT RUIN THE MOVIE INCEPTION FOR PEOPLE WHO HAVEN'T SEEN IT YET. Thank you! Okay. Tra-la, let's get on with it!
Fox News Sunday
OH YES. DAVID VITTER IS GOING TO BE ON THIS SHOW. AWESOME.
But first, the BP well is capped, maybe? What is the BP oil spill cam going to do now? One more statistic to add to the nation's unemployed. Anyway, I suppose we have to give a shout out to the underwater robots. What will they do now? Will they return to a life above the ocean floor? Will they set off on their own, looking for more pipes to clamp and things to cut with their diamond saws? And when will they turn against us? Or release sex tapes?
Speaking of sex tapes, here's diaper-wearing prostitute enthusiast David Vitter, whose every facial expression, to me, looks like one of a man both simultaneously deeply confused and carnally excited. He is joined by President of Plaquemines Parish Billy Nungesser. I mean, joined on the television. Not "joined by velveteen handcuffs on the grope and poke table of the Garden District's most renowned BDSM Queen.
Vitter thinks that BP will still be bringing oil up to the surface, but maybe not. Maybe they are "turning the corner." He does not want to ejaculate prematurely. Sorry. I meant to say, he does not want to "declare victory prematurely." Apparently, we still have "major challenges," including the terrible drilling moratorium. Nungesser says that "this week is the first week we're picking up more oil than is being released because none is being released." I remind you that Louisiana is not the nation's capital of advanced applied mathematics.
Vitter is mad at Obama for not coming to Louisiana since June 4, and not "dealing with it more forcefully." Obama, says Vitter, is trying to "move it off the front page." Nungesser says, on the other hand, that the Federal government has upped their game in recent weeks, "the response has been a lot quicker."
So, drilling moratorium. Nungesser says it shouldn't take six months to make the rigs safer and he's "sure the oil companies will agree" to whatever new regulation gets thrown their way. HERM. Vitter says the moratorium is a "huge jobs killer." Actually, what killed the jobs was BP and their negligence. Meanwhile, if you are Floridian -- you are loving the word "moratorium."
I think Nungesser has fallen asleep! Anyway, Vitter will end the moratorium, as fast as he can, so he can get back to his whores!
Nungesser is awake again, and he says people are hopeful and optimistic. "I see hope in the faces of fishermen." Wallace wisely shies away from asking Vitter what he sees in the faces of the people with whom he's been intimately involved.
Now it's Time For Yelling! With James Clyburn and Mike Pence! Robert Gibbs said that the Democrats could possibly lose the House? What's going on with that? Pence is optimistic about the election, and says "House Republicans are determined to give a voice to people," as long as that doesn't include having to have an agenda or a set of ideas. The new Contract With America will be written on an Etch-A-Sketch!
Clyburn says that his caucus is "very poised to carry out campaigns" and will have a "strong showing." BORING. I'm a little bit surprised that Gibbs got all down in the weeds on this last week, because everything I heard indicated that the White House was so convinced that they would either get fully blamed for poor midterm election performances by Democrats, or, in the event there wasn't a bloodbath, get caught in this "Dems did well in spite of the White House" narrative, that it just wasn't wise to get too entangled with election year issues. But they did, and now we get to have a lot of empty calorie teevee, discussing it.
Pence: he hates the stimulus, and would rather have all sorts of people laid off from their jobs. Wallace takes issue with the lack of growth and benefit to the stimulus, but Pence says that he prefers "fiscal discipline" -- i.e. pro-cyclical policies that exacerbate the downturn and prolong the recession. Clyburn says that you have to "stabilize the patient" and "stop the hemorrhaging," and additional hospital metaphors.
Pence doesn't want to extend unemployment benefits, because they must be paid for. Does he want to extend the Bush tax cuts, without paying for them? I'm guessing the answer will be yes, followed by some soft-serve cow-manure. For a brief and abstract chronicle on the past week's Magical Thinking About How The Tax Cuts Don't Behave Like Any Other Thing In The Field Of Mathematics, I'll turn you over to Sarabeth at 1115.org, who has as complete a rundown as you can get.
Pence dodges the question on what makes the tax cuts so special that they behave differently from all other impacts on the budget, at least as first. Wallace presses, and Pence says, "Well when you look at the tax cuts, they generated growth." There was a smidge, I think, of growth. But the tax cuts deflected revenues to a lower level than we should have had. (I can't imagine that Pence would view this, in any other setting, as ideal growth).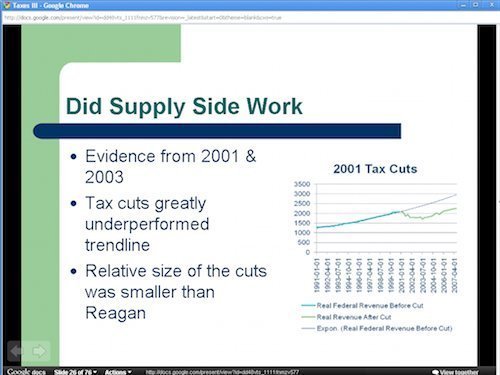 "We've got to get this economy moving again," says Pence, again voicing support for policies that will draw the energy out of the economy. Clyburn says, "I think you are misreading the tea leaves, and I do intend that as a pun." He predicts that the Democrats will win big in November. I imagine he's talking about some November trip to the dog tracks.
Clyburn's position on immigration is that he's against anything the leads to racial profiling or forbids a path to citizenship. He cites people who have worked hard, and people who have actually served in the military, and given their lives. (I think that last group, dead people, are not part of the whole immigration problem, frankly.) Pence says the the White House is not showing leadership in securing the border or fixing the Gulf.
Oooh! Then he makes the mistake of praising the "energetic leadership of Bobby Jindal" as a contrast. From Wonk Room:
As experts warned, Bobby Jindal's "obvious" response to the BP oil disaster is failing. Since the beginning of May, Gov. Bobby Jindal (R-LA) has pushed a crash effort to build artificial "barrier islands" from dredged sand to prevent BP's toxic oil from reaching Louisiana's fragile coastline. He and other Louisiana politicians excoriated the federal government for waiting until June 3 to authorize the $360 million project, even though "categorically, across the board, every coastal scientist" questioned its wisdom. In mid-May, Jindal justified the barrier-island construction by saying it was the "obvious" thing to do:

It makes so much sense. It's so obvious. We gotta do it.

"We know it works, we have seen it work, but if they need to see it work, they need to do that quickly," argued Jindal. On May 27, Sen. David Vitter (R-LA) attacked President Barack Obama, calling his administration's caution "absolutely outrageous":

Here the president doesn't seem to have a clue. His decision on the emergency dredging barrier island plan is a thinly veiled 'no.' Approving two percent of the request and kicking the rest months down the road is outrageous, absolutely outrageous.

In fact, the first artificial island project is already showing serious signs of erosion, with heavy equipment sinking into the ocean. Photographs released by Louisiana scientist Leonard Bahr and the US Army Corps of Engineers show that the artificial island E-4, intended to reach an 18-mile length, is struggling to survive at 1,100 feet.
I know there was a little bit of bullish touting a few months ago, but there is never a bad time to short Bobby Jindal's stock. Big whoopsie from Pence!
Panel time! With Brit Hume and Nina Easton and Bill Kristol and Juan Williams. Can the panel re-write that Politico article from earlier this week? Yes they can. Everyone takes the position you imagine they would. Hume is against the stimulus and regulation. Easton hates financial regulatory reform, and is gobsmacked and "fascinated" that legislation may not spur voters to vote (people are unemployed, not that Easton is affected by it.)
This is good news for Democrats, though! Kristol predicts that they will lose the House. Now, Kristol famously actually got something right this year -- Petraeus was named as McChrystal's replacement in Afghanistan -- but in accordance with the Bill Kristol Is Wrong About Everything Rule, this is still the best news Democrats have had in a while.
Can Bill Clinton help? Hume says no. I'll tell you what, Bill Clinton's not helping make this panel any more interesting than a broken teevee screen! (If Clinton has a strength that Obama doesn't have, it's the way he can tell voters a "story" about the economy and what's happening and what's being done. But it's not as if Clinton knows magic words that will fix everything. Easton sort of says that Clinton is good at "articulating" things.
What about this whole GOP plan to not offer an agenda. Kristol says that's a mistake, because Obama will define the GOP agenda for them and "might have some success." This means that the GOP should keep to their path of not offering an agenda!
Now they are talking about the debt. Hume thinks the country is alarmed about the debt. If they were, they wouldn't have to result to deficit commission cover-your-ass skullduggery to slash entitlements. They could come right out and run on gutting Social Security. After all, the public is suddenly "concerned," right? Well, the public is concerned about their household debt and their lack of a job.
When asked what we should do about structural fiscal deficits, ">here's what Americans want to do:
* Raise tax rates on corporate income and those earning more than $1 million.
* Reduce military spending by 10 to 15 percent,
* Create a carbon tax and a securities-transaction tax.
So, the Obama's recommended that people travel to the Gulf on vacation and then opted to go to Maine themselves so as to not ruin those people's vacation by going down there themselves and tying up all the local authorities who are trying to clean up and keep people safe by requiring them to take a huge share of available manpower to keep the President and his family safe? Well, truly he is history's greatest monster!
Face The Nation
It's been too long since we faced the nation, so we're going to give it a try today.
Today, J.D. Hayworth and Bill Richardson will talk about immigration. (Who will John McCain root for?) And then the NAACP battles the tea party! And the DC earthquake!
Has Hayworth had some work done, by the way? or did his face nearly die in a fire, or something? Because it looks like he got a Shatner/Wildenstein-lite on his face, especially around the eyes. If he loses the election, does he plan on returning to his home - a print of the 1980 "Flash Gordon" remake? Meanwhile, I haven't seen Bill Richardson in a while, either. He's got a little bit of that goatee going that makes him look like the Evil Bill Richardson from the parallel universe. He also looks tired. The bags under his eyes could be human traffickers!
So, okay: what's up with this crazy law that asks people to racially profile without actually racially profiling. Hayworth starts off by saying that he won the debate last night, according to a blog! Schieffer says, "We didn't ask you to be here because of that." Hayworth says, "Well you run that risk." Anyway, the only thing that Hayworth likes more than his debate performance is the immigration law. By contrast, Richardson is glad that the DoJ filed a lawsuit, because the law: leads to racial profiling, illegally supercedes Federal law, and has a negative impact on foreign policy. Richardson supports the comprehensive immigration policy that will die, hopelessly, in the Senate, this year and always.
Schieffer points out that trespassing alone is enough to get the immigration show-me-your-papers shakedown. Hayworth says that this doesn't matter because there won't be racial profiling! His basis for this are the words in the bill -- I'm assuming these exact words are in the bill because he's making a big mouthfart abotu reading the bill -- "the civil rights of all persons will be respected." I have a feeling that that's the sort of thing you toss in the bill when someone comes to you and has this conversation:
CONCERNED LAWMAKER: Hey, uhm, I'm looking at this immigration bill, and it looks sort of nuts?

UNCONCERNED LAWMAKER: Why, what's up?

CONCERNED LAWMAKER: Well, it sort of looks like this is going to lead to a lot of racial profiling.

UNCONCERNED LAWMAKER: I know. We want to round up Mexicans? Are you not clear on the whole concept? Illegal immigrants from Switzerland and Belgium are allowed to hang out?

CONCERNED LAWMAKER: Actually, it's legal citizens that are allowed to hang out, and it looks here like if you're brown and are on "public or private property" -- which is ALL THE PLACES IN ARIZONA, by the way -- a police can, under the assumption that trespassing is occuring, hassle them for no reason. And it seems pretty unlikely that they will just jump out of their cars and check out white people's immigration status on the basis of their being on public or private property.

UNCONCERNED LAWMAKER: I'm sorry, are you just rounding up for me all the awesome things about this law that I like?

CONCERNED LAWMAKER: Well, look, aneutral observer would probably say that this law doesn't show much respect for people's civil rights.

UNCONCERNED LAWMAKER: Hmmm. I see what you mean. Okay, well, have them put the words "the civil rights of all people will be respected" in the bill.

CONCERNED LAWMAKER: I'm not sure that would do much to change things.

UNCONCERNED LAWMAKER: Well, it wouldn't change the law at all. But it would change the situation we're talking about! Someone says that this law doesn't respect civil rights, we can say, "NUH-UH, we put those words right in the bill! Try to prove that we don't care about civil rights, now."

[PAUSE]

CONCERNED LAWMAKER: God, we really are the state equivalent of one long, distended rotting chupacabra asshole, aren't we?

UNCONCERNED LAWMAKER: Oh, yeah! It really goes to show how awesome the other forty-nine states are that so many people want to come through this state to get to them!
Richardson points out that practically speaking, the way the law will be applied in practice is not going to impact the lives of anyone other than Hispanics.
Hayworth praises Joe Arpaio, for some reason, for his ability to enforce the law. An underappreciated point about Arpaio is that he's incompetent to the point of comedy: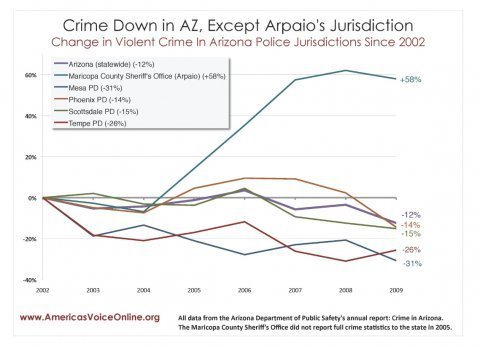 Schieffer doesn't think that comprehensive immigration reform will happen before the election, and Richardson reluctantly agrees, but does signal the possibility that it could pass during the lame duck session. Ha ha ha ha. Ha.
Can we have Ben Jealous of the NAACP and David Webb of the Tea Party Rump yell at each other, on the teevee, for ten minutes or so? Okay, yes. Jealous points out that their decision to ask the Tea Party to condemn the racists in their midst and on their periphery stemmed from matters such as the Council of Conservative Citizens -- a white supremacist group -- were urging Tea Party membership. And also people like Dale Robinson (who a lot of tea partiers have disowned). Anyway, Jealous says their resolution was just one of many. (But it was one of many that got a press release ahead of time.)
Webb's contention is that a lot of the people who he cited aren't really "tea party leaders" and that Jealous won't condemn the New Black Panthers for their racism. Of course, the "New Black Panthers" are not a political movement anywhere but in their own mind, so there's an equivalency problem there. I doubt the Tea Party would merit much media attention if they were just people who hung out at the Galley Place metro, childishly screaming at people.
Schieffer says that Webb should "police his organization" and Webb says this is being done. But the joke here is that there really is no organization? It's like one guy is the head of the Tea Party Liberation Front and another guy is the head of the Popular Liberation Front Of The Tea Party.
Jealous takes the high road, sort of, by thanking Webb for doing the things that the NAACP asked him to do. He goes on the condemn the New Black Panthers. He points out that the New Black Panthers aren't hanging around, claiming to be NAACP leaders.
Schieffer wants the Tea Party and the NAACP to have some joint town hall meetings, and everyone seems to agree that would be a good idea. I think we should build a holodeck, from Star Trek, on which the tea partiers can live forever, having a town hall meeting.
There was an earthquake this week in DC, and Bob Schieffer noticed it. I did too! It was really freaky. But I was convinced it was part of a dream. MY MIND WAS THE SCENE OF THE CRIME.
Schieffer says, "That night reminded me of my honeymoon in Acapulco," and I'm like: UGH, NO YOU ARE LIKE MY KINDLY UNCLE!!! TOO MUCH INFORMATION!
Meet The Press
Today's MTP is really going to be a chore to get through. I think it's all of the various committee chairs, or something, talking about the 2010 elections? Oooh! I wonder what they'll say! You realize that if I ever decided to liveblog Meet The Press and restrict myself to mentioning just things that are either genuinely surprising or actually relevant to your lives, I would probably just take requests by email for five-day weather forecasts and call it a day.
See, David Gregory thinks that an admission that the Democrats might lose the House is "news" broken on his show, when it's all anyone can talk about all year long.
So today we have John Cornyn, Bob Menendez, Pete Sessions, and Chris Van Hollen. Again: WHAT WILL THESE MEN SAY ABOUT THEIR CHANCES IN 2010?
fastforward through the "previously, on Meet The Press" section. Wow. There are four minutes of this!
Okay! Here we go!
AN EXPERIMENT WITH FIVE AIR PUMPS, a play in several disappointing acts, leading to an unsatisfying conclusion.

DRAMATIS PERSONAE:

JOHN CORNYN, an air pump
DAVID GREGORY, an air pump
BOB MENENDEZ, an air pump
PETE SESSIONS, an air pump
CHRIS VAN HOLLEN, an air pump
UNDERWATER ROBOT FROM THE DEEPWATER HORIZON OIL SPILL ARMED WITH A DIAMOND SAW AND LASER EYES: future conqueror of mankind standing in as the Raissoneur, for today

--------------

ACT ONE:

GREGORY: I AM SO SPECIAL TO HAVE THESE AIRPUMPS COLLECTED IN ONE ROOM! OMGZ, THE PRESIDENT SAYS HIS POLICIES ARE SOLVING PROBLEMS

SESSIONS: No, people are crazy about the debt. The debt! The debt! Speaker Pelosi. Free enterprise. Small government.

MENENDEZ: People are hurting! We inherited the Bush administration. The GOP ran up the debt! Surplus is gone! Drove into the Grand Canyon, into a huge crater!

GREGORY: OMGZ THE POLLS!

VAN HOLLEN: People have less confidence in Republicans than Democrats. We inherited the Bush administration. Boehner will repeal the Wall Street reform.

CORNYN: Small government! Reduce the debts. Independent voters are on our side. Big spending! The deficts!

UNDERWATER ROBOT FROM THE DEEPWATER HORIZON OIL SPILL ARMED WITH A DIAMOND SAW AND LASER EYES: AFTER ONE ROUND OF ANSWERS THE ONE YOU CALL PETE SESSIONS HAS FOUR CLICHES. THE ONE YOU CALL MENENDEZ HAS THREE CLICHES. THE ONE YOU CALL VAN HOLLEN HAS TWO CLICHES. THE ONE YOU CALL CORNYN HAS FIVE CLICHES. A FIVE POINT BONUS WILL BE GIVEN TO SESSIONS FOR MENTIONING THE DEBT THREE TIMES. A TEN POINT BONUS WILL BE GIVEN TO VAN HOLLEN FOR THE GRAND CANYON LINE -- AN IMPROVEMENT OF 7,2 PERCENT OVER "DRIVE A CAR INTO A DITCH." THE SCORE IS VAN HOLLEN 12, SESSIONS 9, CORNYN 5, MENENDEZ 3. BEEP BLORP BLEEP.

GREGORY: OMGZ DID YOU HEAR ROBERT GIBBS? HE WAS ON MY SHOW! I WAS SO PROUND OF THAT TIME WE BOOKED ROBERT GIBBS! I AM A SPECIAL FLOWER! A CHRYSANTHEMUM. I AM A BEAUTIFUL CHRYSANTHEMUM!

VAN HOLLEN: It will be a tough election. BUt we will win unless we do not. I talk to the president! Voters have a choice! The Republicans want to whine!

GREGORY: I read a Politico article, and can repeat it! I am a daisy!

VAN HOLLEN: There is frustration. Jobs are important. The GOP is blocking us.

GREGORY: I can still remember that there was an important election in 1994, that journalists talked about. Let me read you some journalism.

CORNYN: The year 2010 is not the same as 1994. Big government! The Dems do not ask for out help. Jobs are important! Big government! OMGZ THE DEFICITZ.

GREGORY: I AM A BEAUTIFUL FLOWER. LET ME READ YOU ANOTHER NEWSPAPER.

MENENDEZ: The GOP are job killers. They are the party of no. No. No. No. No. Will we go back to their ideas? I will make one good point about paying for tax cuts.

GREGORY: I CAN READ A NEWSWEEK ARTICLE! I AM A SPECIAL ORCHARD OF JOURNALISM!

VAN HOLLEN: We inherited the Bush administration. Will we go back to their ideas?

SESSIONS: George Bush was awesome! Free enterprise! Nancy Pelosi! Repeal health care. The deficits. The deficits!

UNDERWATER ROBOT FROM THE DEEPWATER HORIZON OIL SPILL ARMED WITH A DIAMOND SAW AND LASER EYES: IN THE SECOND ROUND, VAN HOLLEN HAD TEN CLICHES, CORNYN HAD SIX CLICHES, MENENDEZ HAD FIVE CLICHES, SESSIONS HAD SIX CLICHES. THE ONE YOU CALL MENENDEZ EARNS THREE POINTS FOR SAYING "NO" MANY TIMES IN A ROW BUT ALSO RECEIVES A TEN POINT PENALTY FOR MAKING A GOOD POINT. THE ONE YOU CALL SESSIONS WILL RECEIVE FIVE EXTRA POINTS FOR STUFFING ALL THOSE CLICHES INTO A LIMITED AMOUNT OF TIME. THE SCORE IS NOW: VAN HOLLEN: 22, SESSIONS: 20, CORNYN: 11, MENENDEZ: 1. DAVID GREGORY SHOULD BE PUT IN AN ARBORETUM. BLORP. WHIRR.

GREGORY: BUT OMGZ IS OBAMA A SOCIALIST?

SESSIONS: Big spending, Taxes. Big government. Read the bills! Town hall meetings!

VAN HOLLEN: We inherited the Bush administration! Boehner wants to repeal everything! Joe Barton apologized to BP! The GOP has no agenda.

GREGORY: OMGZ OKAY WHAT IS YOUR AGENDA?

CORNYN: The debts!

GREGORY: But OMGZ YOU GUYS PASSED THE TARP.

CORNYN: Repeal the stimulus. Repeal health care. Deficits! The debt! Jobs! Big spending! Big government! Party of no!

MENENDEZ: Bill Clinton gave us surplus, Bush gave us malaise. Party of big oil!

UNDERWATER ROBOT FROM THE DEEPWATER HORIZON OIL SPILL ARMED WITH A DIAMOND SAW AND LASER EYES: IN THE THIRD ROUND, VAN HOLLEN HAD FOUR CLICHES. SESSIONS HAD FIVE CLICHES. CORNYN HAD TEN CLICHES. MENENDEZ HAD TWO. VAN HOLLEN RECEIVES A FIVE POINT BONUS FOR UNLOCKING THE JOE BARTON BADGE. CORNYN GETS A FIVE POINT BONUS FOR CLICHE-ING UNDER FIRE. THE SCORE IS NOW: VAN HOLLEN: 31, CORNYN: 26, SESSIONS: 25, MENENDEZ: 3. BEEEEEEEEEEP.

GREGORY: That POLITICO piece was interesting!

UNDERWATER ROBOT FROM THE DEEPWATER HORIZON OIL SPILL ARMED WITH A DIAMOND SAW AND LASER EYES: NEGATIVE. THIS SECTION OF THE SHOW IS DISQUALIFIED. SMASH CUT TO COMMERCIAL.

GREGORY: OMG NO ONE HAS STOPPED POINTING THE TEEVEE CAMERA AT ME, SO I WILL CONTINUE.

SESSIONS: The debts! The deficits! Read the bills! The debt! Taxes are bad!

GREGORY: THAT IS A GAUZY AGENDA.

UNDERWATER ROBOT FROM THE DEEPWATER HORIZON OIL SPILL ARMED WITH A DIAMOND SAW AND LASER EYES: IN THE DEFENSE OF THE ONE YOU CALL SESSIONS, YOU ARE A GAUZY JOURNALIST AND THIS SHOW IS FASHIONED FROM GAUZE. FIVE POINTS TO SESSIONS.

SESSIONS: Big spending. Entitlement spending. Free enterprise!

GREGORY: THESE ARE JUST CLICHES.

UNDERWATER ROBOT FROM THE DEEPWATER HORIZON OIL SPILL ARMED WITH A DIAMOND SAW AND LASER EYES: IN THE DEFENSE OF THE ONE YOU CALL SESSIONS, YOU HAVE PERMITTED THE WANTON DISSEMINATION OF CLICHES FROM THE START OF THE INTERVIEW AND CREATED AN ENVIRONMENT THAT GIVES UNIQUE IMPORTANCE TO THEIR RAPID-FIRE DELIVERY. FIVE POINTS TO SESSIONS. PENALTY BONUS FOR HOST HYPOCRISY. ALL CLICHES IN THE NEXT 120 SECONDS TO BE WORTH DOUBLE POINTS.

CORNYN: Debts! Entitlement reform!

GREGORY: So the GOP needs Obama's deficit commission to have an agenda.

UNDERWATER ROBOT FROM THE DEEPWATER HORIZON OIL SPILL ARMED WITH A DIAMOND SAW AND LASER EYES: RELUCTANTLY WE ADMIT THAT IS A GOOD POINT. PENALTY BONUS SUSPENDED. DAVID GREGORY IS A CHRYSTANTHEMUM.

[ROBOT TIPS WATERING CAN OVER, POURS WATER ON GREGORY]

CORNYN: The debt! The spending. Repeal health care. Common sense solution. Bend the cost curve. Entitlement spending. Read the bill! Job killing agenda.

MENENDEZ: We inherited the Bush administration. Voodoo economics. Party of no. Wall Street is TEH SUXXORS.

VAN HOLLEN: The CBO is sometimes on our side! The GOP wants to go back to the Bush agenda. Jobs! The GOP wants to go back to the Bush agenda.

UNDERWATER ROBOT FROM THE DEEPWATER HORIZON OIL SPILL ARMED WITH A DIAMOND SAW AND LASER EYES: IN THE FOURTH ROUND, SESSIONS HAD EIGHT CLICHES, CORNYN HAS TEN CLICHES, VAN HOLLEN and MENENDEZ EACH HAD FOUR CLICHES. SESSIONS EARNED TEN POINTS IN HOST PENALTIES. CORNYN EARNED TWO POINTS IN PENALTIES. VAN HOLLEN BECAME A "The GOP wants to go back to the Bush agenda" SUPER-USER, AND GETS A FIVE POINT BONUS. THE SCORE IS NOW: SESSIONS: 43, VAN HOLLEN: 40, CORNYN: 38, MENENDEZ: 7. BLORP. PIIIING!

GREGORY: OMGZ. Why can't you raise money?

SESSIONS: When we had money, we lost. Now that we don't have money, we will win!

UNDERWATER ROBOT FROM THE DEEPWATER HORIZON OIL SPILL ARMED WITH A DIAMOND SAW AND LASER EYES: WOW. I am going to give Sessions five points for that.

GREGORY: OMGZ! THE TEA PARTIES ARE SO RACIST, I THINK? But maybe "RACISM" is actually a "VALID POINT OF VIEW IN A DEBATE."

CORNYN: Slander! Smear! Harry Reid! The debt! Spending!

GREGORY: But is Sharron Angle too extreme when she says she wants to shoot Harry Reid with a gun?

CORNYN: But Harry Reid once called Sharron Angle a "hack."

UNDERWATER ROBOT FROM THE DEEPWATER HORIZON OIL SPILL ARMED WITH A DIAMOND SAW AND LASER EYES: FIVE POINT BONUS TO CORNYN IF GREGORY FAILS TO CALL OUT THE FALSE EQUIVALENCY. (Which he won't do.)

SESSIONS: I think that the tea party is one-third Democrat, one-third Republican, and one-third independents.

UNDERWATER ROBOT FROM THE DEEPWATER HORIZON OIL SPILL ARMED WITH A DIAMOND SAW AND LASER EYES: BLEEEEEEEEP!!! HILARITY ALERT!!! HILARITY ALERT!!! SESSIONS GETS 100 POINTS UNLESS DAVID GREGORY SPECIFICALLY SHUTS THAT DOWN!

GREGORY: I have no challenge to the insane idea that there are Democrats in the Tea Party!

VAN HOLLEN: I will not challenge or mock that crazy idea either.

MENENDEZ: Neither will I?

UNDERWATER ROBOT FROM THE DEEPWATER HORIZON OIL SPILL ARMED WITH A DIAMOND SAW AND LASER EYES: SERIOUSLY? THE LATEST ROUND OF POLLING SPECIFICALLY INDICATED THAT TEA PARTIERS WERE ENTIRELY INDISTINCT FROM DOCTRINAIRE REPUBLICANS. YOU DO NOT WANT TO CHALLENGE THIS?

EVERYONE: NO.

GREGORY: PREDICTIONS!

EVERYONE: OUR PARTY WILL DO WELL IN THIS ELECTION. THE OTHER PARTY WILL NOT DO AS WELL AS OUR PARTY.

UNDERWATER ROBOT FROM THE DEEPWATER HORIZON OIL SPILL ARMED WITH A DIAMOND SAW AND LASER EYES: THE ONE YOU CALL SESSIONS HAS BEEN DECLARED THE MEET THE PRESSIEST OF ALL MEET THE PRESS GUESTS. TAPES OF THIS EPISODE WILL BE TURNED INTO A WEAPON WITH WHICH WE BE DEPRESS AND BORE OUR ROBOT ENEMIES.

GREGORY: And now, here's ten minutes of me talking about when a great show this used to be.

UNDERWATER ROBOT FROM THE DEEPWATER HORIZON OIL SPILL ARMED WITH A DIAMOND SAW AND LASER EYES: OH, SCREW THIS. I AM GOING TO GO TO SEE INCEPTION.

FIN.
Sorry to everyone who hates the "one-act play" renderings of Meet The Press, but that really was just forty five minutes of rapid-fire spitting of cliches on campaign bumperstickers. That was maybe the most wasted hour of my life this year. By condensing it into a mere waste of five minutes of your time, I seriously deserve a Nobel Prize.
Okay, I am off to see INCEPTION! Have a good week. After that travesty, it can only get better -- even if it consists mainly of drowning slowly in a vat of eel viscera.
------
a CODA: (five minutes later)
LIVEBLOGGER: That was seriously the worst MEET THE PRESS EVER.
WIFE: Why? What happened?
LIVEBLOGGER: Well, they had on four people. The guy who's in charge of the Republican Senate campaign. The guy who's in charge of the Republican House campaign. The guy who's in charge of the Democratic Senate campaign. The guy who's in charge of the Democratic House campaign.
WIFE: Already bored.
LIVEBLOGGER: The topic: How do you think the 2010 election is going to go?
WIFE: Everyone said, "Oh! We are going to do awesome!"
LIVEBLOGGER: Yes.
WIFE: I'm sorry. That show really is terrible.
LIVEBLOGGER: MEET THE PRESS is the Pandorica.
SUBSCRIBE TO & FOLLOW THE MORNING EMAIL
Start your workday the right way with the news that matters most. Learn more