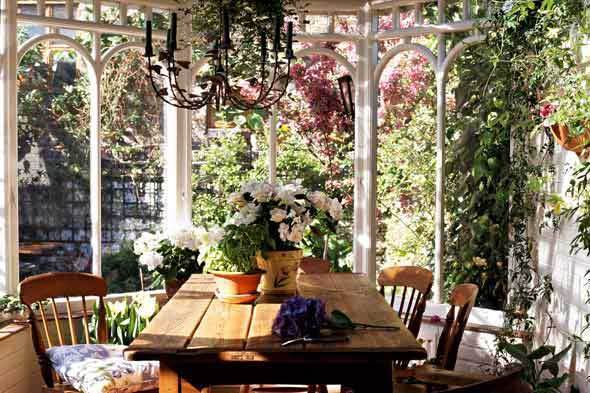 An ordinary gazebo becomes a romantic dinner setting when a wood-plank table is topped with a candle-lit chandelier. Photo: Red Cover, Alamy
Chandeliers aren't just for formal dining areas.
The best place to start: mood lighting. Yes, lanterns and over-sized citronella candles can help do the trick. But for that extra-special touch, whether you have a lush garden setting or an urban outdoor escape, consider adding an outdoor chandelier. It will add a touch of romance and a lot of charm.
Many companies are making outdoor-friendly light fixtures (the electric kind) but there's something to be said about an "old-world" style candle-lit fixture. The one in the photo above adds an elegant ambiance to evening entertaining, while in daytime it provides some extra architectural interest to the casual gazebo. Lazy country days have never looked so chic.
We were feeling so inspired that we rounded up a few of our favorite outdoor chandelier ideas: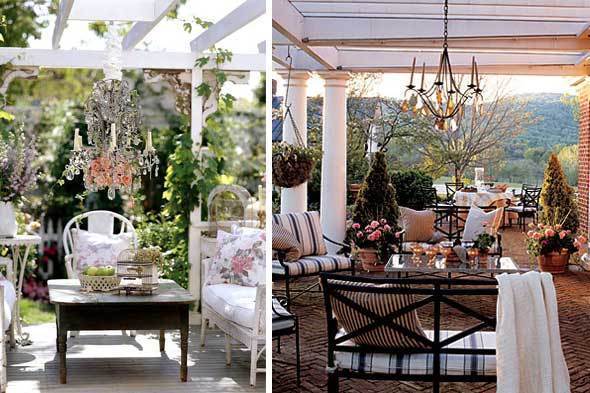 Dazzle your outdoor seating sets with a chandelier decked with pretty crystals (as seen in Country Home Magazine) or an ornate iron beauty (featured in Southern Accents) that adds rustic elegance. Photos: Country Home and Southern Accents.
Repurposed Pretty
It can be hard to find the perfect dramatic chandelier that's suitable for the outdoors. Instead of narrowing your search simply to the exterior-friendly section at The Home Depot, scour thrift stores or flea markets for a statement-making chandelier (one that no longer works will be extra budget-friendly). Simply remove the wiring and replace the bulb sockets with taper candles and voila, outdoor chandelier. Bring the fixture in during rainy months to prevent rusting.
Country Home magazine featured the crystal chandelier (featured above left) in a roundup of their favorite outdoor rooms. Check out their slideshow of 13 gallery for some al fresco inspiration -- our favorite is easily this pretty setting with the chandelier centerpiece. Southern Accents magazine also highlighted their Top 10 Pools, Patios and Porches featuring this hard-to-beat expansive lakeside porch (shown above right).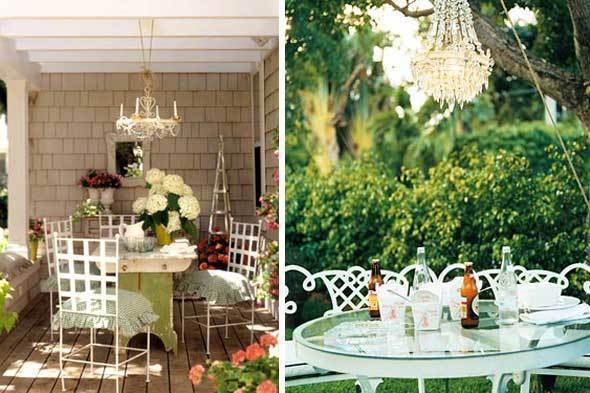 Seemingly casual dining spaces get an extra burst of interest when a rope-hung formal chandelier tops it all off. Photos: Better Homes & Gardens and Domino
Tie One On
If you're lacking a spot from which to hang a chandelier, don't fret: use a swag of rope to drape a pretty fixture over a simple table for a dramatic outdoor setting, as was done in the romantic scene for a Domino magazine shoot (above right). Better Homes & Gardens featured a home with a similar strategy -- roping a candlelit chandelier from a porch awning -- in their roundup of Casual Porch and Patio Dining.
Do it Yourself
Still can't find the right fixture to bare the outdoor elements? Make your own out of a wire basket and some jam jars! Or recycle some bottles for this colorful option.

SUBSCRIBE AND FOLLOW
Get top stories and blog posts emailed to me each day. Newsletters may offer personalized content or advertisements.
Learn more