Phillies first baseman Ryan Howard was injured on Sunday when he jammed his ankle in the first inning in a game against the Nationals. As he was helped off the field by a trainer and manager Charlie Manuel, the highly paid slugger appeared to be the victim of a wedgie.
In a bizarre twist, it appears the Major League Baseball's official Twitter account may have tweeted about the incident. A Twitter search reveals numerous retweets of an MLB tweet that apparently said, "Many Ultimate Wedgie comments for this Ryan Howard pic just posted." However, the original tweet is nowhere to be found, so it is not clear whether the retweets are authentic.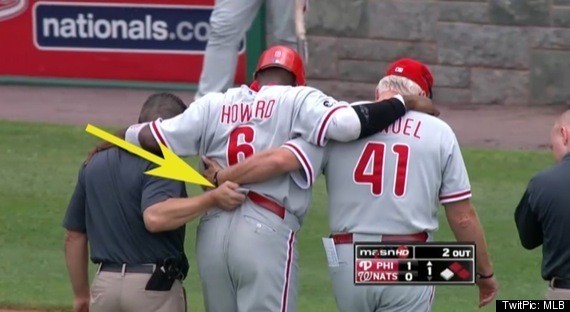 SUBSCRIBE AND FOLLOW
Get top stories and blog posts emailed to me each day. Newsletters may offer personalized content or advertisements.
Learn more