Carla Bruni Models For The Global Fund's Born HIV Free Campaign (PHOTO, VIDEO)
French First Lady Carla Bruni is back to modeling, posing in a Jean Paul Gaultier-designed t-shirt for The Global Fund's Born HIV Free campaign. Bruni said in a press release, "Jean Paul Gaultier's design will help us to reach more people with the message of the Born HIV Free campaign--that no child should be born with HIV when we have the medicines and means to prevent it. It is our hope that people will wear this T-shirt to show their support of the campaign and encourage countries to continue funding of The Global Fund." Check out her print ad: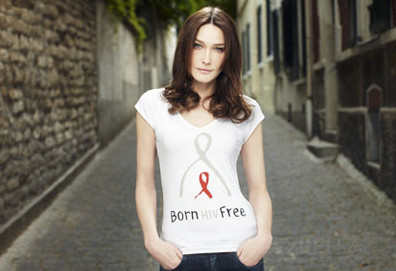 Bruni also filmed a short video for The Global Fund.
WATCH: