6 Charts That Suggest The Unemployment Crisis Is WORSE Than It Looks
If today's uninspiring data on the mounting jobs crisis isn't enough to convince you of how difficult it will be to turn employment situation around, we've gathered some graphical evidence of just how bad it is out there.
Today, the Bureau of Labor Statistics announced that the U.S. economy shed 131,000 jobs in July. Private employers added 71,000 jobs, while the Census eliminated some 143,000 temporary positions. In sum, the report was widely seen to be weak and, as Calculated Risk noted, was actually weaker than many of the headlines suggested. Accounting for the Census hires, the economy added just 12,000 jobs last month, far below the 200,000 new jobs required each month to drive the unemployment rate down.
Below, we've complied a handful of charts that take a deeper dive into the numbers. A few things standout. First, this recovery has been significantly flatter than previous economic rebounds. And, perhaps more disturbing, this unemployment crisis has been defined by historic rates of long-term unemployment and decreased economic output.
Check out the most disturbing charts from the latest jobs data:
Percent Of Job Losses In Postwar Recessions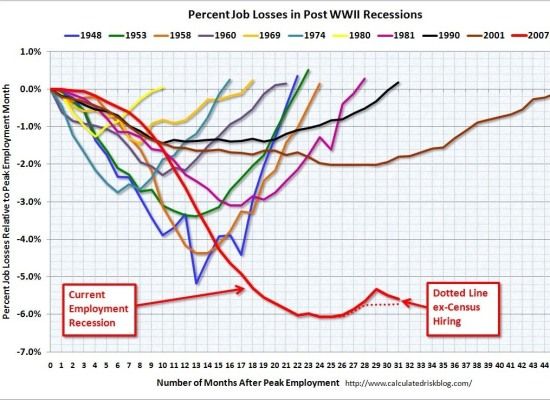 Peb

said on 8 Sunday 2010 pm31 6:17 pm:


Republicans created zero net new private sector jobs. ALL the jobs created during the Bush administration were public sector (soldiers etc.). Republican economics just don't work anymore. Putting these guys back in charge will mean more of the same - - - ie. no new jobs! http://2010.newsweek.com/essay/party-like-its-1999.html
Total comments:
3616
|
Post a Comment
Not A Huge Factor
Very Disturbing
Scariest Charts From The Job Crisis
Subscribe to the HuffPost Money newsletter!