It turns out even Tim Tebow is not immune to rookie hazing. The Broncos' first-round draft pick, who may be the team's most famous player despite not having taken a snap yet in the NFL, was forced--along with other rookies--to shave the top of his head before warm--ups on Saturday night.
"I think all the rookies had a good time with it," Tebow told ESPN. "It was something to give everybody a laugh, something also to build chemistry."
Denver Post reporter Lindsay Jones asked Tebow on Saturday how long he has to keep the friar look. Starting quarterback Kyle Orton, who happened to be walking by at the time, jokingly answered for him: "Forever!"

PHOTO: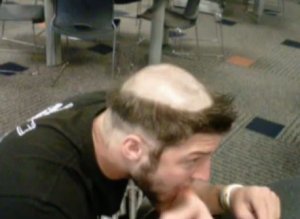 WATCH: