Looking for a great weekend day trip? The Cloisters, part of The Metropolitan Museum of Art, is only 30 minutes away by subway from Penn Station. The Cloisters house a superior collection of medieval art and are surrounded by elaborate gardens and grounds.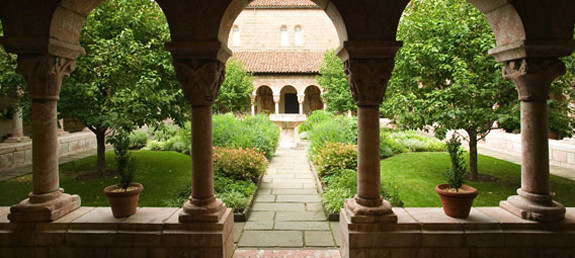 What is The Cloisters?
The focus is art and architecture of medieval Europe and the building itself stays true to the design of medieval French cloisters and "other monastic sites in southern France." The gardens(which are replicas of medieval designs) are surrounded by gorgeous marble columns and stained glass windows that decorate the exterior of the building. You feel fully transported to another world without ever having to leave Manhattan!
(via The Cloisters Museum & Gardens)
How To Get There
Did we mention that it is super easy to get to the Cloisters? Admission is free with same-day admission to the Metropolitan Museum (recommended donation is $20 though it is not enforced) and so essentially you only have to pay for the subway and/or bus. We recommend hopping on the M4 bus (Madison & 83rd) after visiting the Met in the morning and taking it to the last stop. The ride is about an hour; if you are looking to get there quicker, we recommend taking the A to 190th street and then walking. Make sure to check here for more information about directions and parking.
What To Do
The Cloisters are located in Fort Tryon park, a four-acre stretch of land overlooking the Hudson River. Though the building itself is not large, we recommend taking one of the free tours offered by the museum. The "Highlights Tour" takes you around the main collection and the gardens. The gardens are so spectacular however, that we suggest taking one of the "Garden Tours." Not all tours are offered everyday, make sure to double-check the event schedule for the days and times.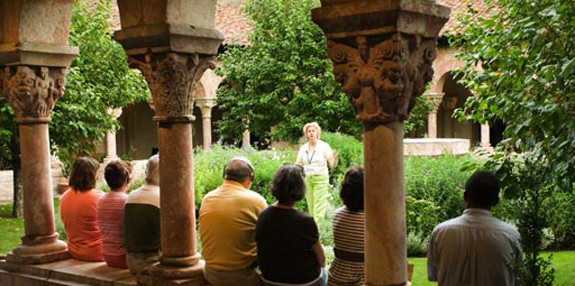 Upcoming Events
The Cloisters have an endless list of special events, however most enlightening are their gallery talks. This September the talks will be taking place at 12:00pm and 2pm and are free with admission. On September 18th, Jennifer Ball will be speaking about "Daily Life in a Medieval Monestary." On September 25th, guest lecturer Sara Lipton will be speaking about "Women in Medieval Art." See the full list here.
24th Annual Medieval Festival
Mark your calendar for October 2nd when the Cloisters participate in the 24th Annual Medieval Festival in Fort Tryon Park. Fulfill all of your Renaissance fair fantasies with a visit to a park that has been transformed into a medieval market town with "performers, guests and festival goers dress in medieval costume." There will be costumed vendors, food and drink and of course a late afternoon joust. Did we mention it's free?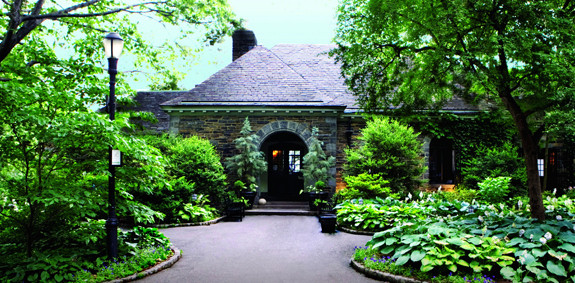 Where To Eat
After a long day visiting the Cloisters you might be ready for a snack or perhaps a heartier meal. In the museum there is the Trie Cafe, however we suggest venturing out into Fort Tryon Park to New Leaf Restaurant & Bar. Residing in a 1930s New York City Park's Department building, the restaurant emphasizes fresh, locally grown ingredients with a menu that changes seasonally.
SUBSCRIBE AND FOLLOW
Get top stories and blog posts emailed to me each day. Newsletters may offer personalized content or advertisements.
Learn more