Cleveland Cavaliers owner Dan Gilbert appeared to take another shot at his former employee LeBron James last Thursday.
Shortly after James said he believed race was a factor in the negative backlash he received after signing with the Miami Heat, Gilbert blasted unnamed "A-Holes" on twitter.
On Sunday, the Cavaliers owner denied that the tweet had anything to do with James or any specific person. "Amazing some cats w/'cyber-courage' think twts of favorite quotes have something to do with specific people. New level of silliness reached," Gilbert tweeted.
After James decided to leave Cleveland and sign with the Miami Heat, Gilbert bashed James in an open letter to Cavs fans. He called James "narcissistic" and said his departure from Cleveland was a "cowardly betrayal."
LOOK: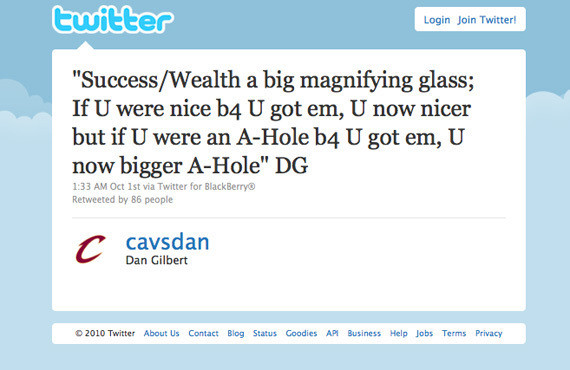 DENIAL