Tuesday was a busy day for new polls from the four closest Senate contests in the nation in Washington, Nevada, Illinois and West Virginia. The new polls show the first three states much too close to call, while a new automated poll in West Virginia moves that state back into our "toss-up" column.
In Washington, two new polls demonstrate how differing polling methods and likely voter models can produce very different results. A new automated Fox News/Pulse survey shows Democratic Senator Patty Murray a single percentage point behind Republican challenger Dino Rossi (46% to 47%), while the latest live interviewer Elway poll shows Murray with a 15-point lead (55% to 40%). Our trend estimate splits the difference but gives greater weight to the many recent surveys showing a closer margin than the Elway poll. Murray continues to hold a narrow 1.2 point lead (47.9% to 46.7%) that leaves Washington classified as a "toss-up."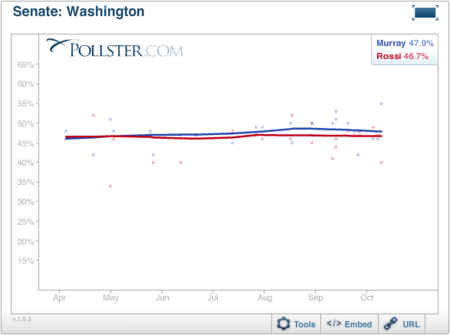 In their analysis, the Elway pollsters notes the "striking differences" between automated and live interviewer polls in measuring vote preference in Washington, with Murray doing consistently better on live interviewer polls conducted by Elway and CNN and worse on the automated polls conducted by SurveyUSA, Rasmussen and its subsidiary Pulse Opinion Research. "There's something happening here," Elway concludes quoting Buffalo Springfield, "what it is ain't exactly clear."
In Nevada, two new automated polls show a continuing deadlock between Democratic Senator Harry Reid and Republican challenger Sharon Angle. Democratic affiliated Public Policy Polling (PPP) shows Reid with a two-point edge (47% to 45%), while a Fox News/Pulse survey shows Angle up the opposite margin (49% to 47%). With the two new polls, our trend estimate is about as close at it gets, with one tenth of one percentage point now separating Reid (46.3%) and Angle (46.2%).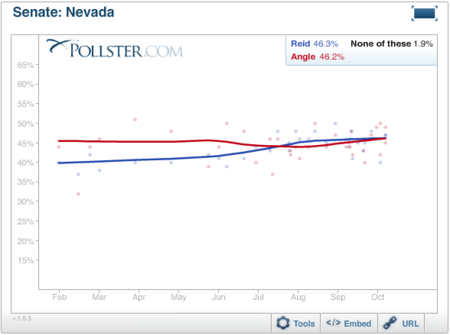 Two new surveys in Illinois, an automated Rasmussen poll fielded on Monday and a live interviewer survey conducted by the Paul Simon Institute at Southern Illinois University over the last two weeks both show a near tie. The Rasmussen poll gives a meaningless one-point advantage to Democrat Alexi Giannoulias (44% to 43%). The SIU survey shows Giannoulias tied with Republican Mark Kirk (37% each) and a much bigger undecided (18%). Kirk leads on our trend estimate by just 1.3 percentage points (40.6% to 39.5%), easily qualifying for toss-up status.
In West Virginia, a new PPP poll shows Democrat Joe Manchin with a not-quite-statistically-significant three-point lead (48% to 45%). Nonetheless, the PPP result is more favorable to Manchin than recent automated polls by Rasmussen and their Pulse subsidiary. It narrows Raese's advantage on our trend estimate to less than three points (48.0% to 45.6%) and shifts West Virginia back into toss-up status.
The new polls in these four toss-up states highlight how critical they are to the ongoing battle for majority control of the U.S. Senate. To gain an absolute majority, the Republicans will need to win the contests in six states currently represented by Democrats where their candidates have been leading (North Dakota, Arkansas, Indiana, Wisconsin, Pennsylvania and Colorado) and then sweep all four toss-up contests in West Virginia, Illinois, Nevada and Washington.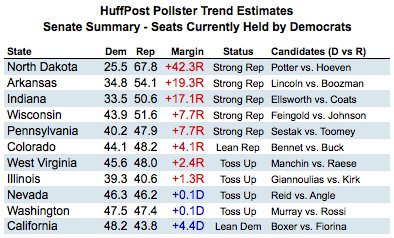 But what about Wisconsin? Is Democrat Russ Feingold really trailing Republican Ron Johnson by margins big enough to merit our strong Republican designation? The Feingold campaign is pushing back hard against that possibility, having released the results of internal polling showing Feingold trailing Johnson by a single percentage point last week among their sample of all likely voters (48% to 49%), and tied this week (at 48%) among a narrower subgroup of "definite" voters.
However, two new surveys released yesterday continue to show Johnson leading comfortably. The live interviewer Reuters/Ipsos poll gives Johnson a seven point lead (51% to 44%), as does a new automated Rasmussen poll (52% to 45%). Our trend estimate now shows Johnson leading by roughly the same margin (51.6% to 43.9%).
Finally, in Alaska, automated pollster PPP has yet another entry in the ongoing test case of how to measure support for the write-in bid of Republican Senator Lisa Murkowski. In a survey conducted for DailyKos, PPP asked voters if they would support Democrat Scott McAdams, Republican Joe Miller "or someone else." Those who answered someone else (35%) were if they would support one of two two other minor party candidates "or are you going to write-in Lisa Murkowski." PPP reported a composite of the two questions showing Miller at 35%, Murkowksi at 33% and McAdams trailing at 26%.
The five Alaska surveys conducted since Murkowski announced her write-in bid have shown support varying between 18% and 41%, mostly because of differences in the way pollsters asked their vote questions. Since three of the last four have shown Murkowski with support in excess of 30%, our trend estimate now shows Miller edging Murkowski by less than two points (34.9% to 33.2% with McAdams at 26.1%). As we have noted previously, Alaska's race is easily the biggest and most interesting challenge facing pollsters this year, but as such, results there should be considered more open to error than elsewhere.
SUBSCRIBE TO & FOLLOW TRUMP'S FIRST 100 DAYS
How will Donald Trump's first 100 days impact YOU? Subscribe, choose the community that you most identify with or want to learn more about and we'll send you the news that matters most once a week throughout Trump's first 100 days in office. Learn more