Federal Reserve Chairman Ben Bernanke further prepped Wall Street on Friday for another round of Fed activity to lower interest rates despite the risks it poses and questions about its effectiveness.
In a morning speech delivered at a conference organized by the Federal Reserve Bank of Boston, the Fed chairman said that "[g]iven the [Fed's] objectives, there would appear -- all else being equal -- to be a case for further action."
Bernanke discussed the low rate of inflation, the "painfully slow recovery" in job creation and the "less vigorous" pace of economic growth. Combined, according to Bernanke's logic, these three developments warrant further Fed action like printing money to buy more assets, communicating to investors that rates will stay near zero for even longer than they anticipate or lowering the rate of interest the Fed pays banks to park their excess cash with the central bank.
Market participants aren't so sure. A chorus is beginning to develop against more Fed action, which has come to be known as quantitative easing (QE). The chiefs of several regional Federal Reserve banks have spoken out in recent weeks warning that not only would such action be unwarranted given the steady pace of economic growth and the choppy nature of post-financial crisis recoveries, but also that it could very well be ineffective.
"[G]iven the strong resistance to further QE from some hawkish Fed officials, the program that eventually emerges, most probably at the next [Fed] meeting in early November, will be too timid to have any real impact," said Paul Ashworth, senior U.S. economist for research consultancy Capital Economics. "At this stage, $500 billion or even $1 trillion is just not going to do it."
The whole point of further Fed stimulus is to lower interest rates so borrowers and those hoarding cash will spend. Those seeking loans will be enticed by record-low rates, while those stockpiling cash would be tempted to spend it because they may perceive elevated levels of inflation down the road (which would decrease the value of their current dollar holdings).
But the main interest rate, set by the Fed's policy-making body, the Federal Open Market Committee, is already hovering in the 0-0.25 percent range. The FOMC set it there in December 2008.
That in turn has depressed rates across the board.
Freddie Mac reported this week that the average rate on a 30-year fixed-rate mortgage fell to 4.19 percent, an all-time low. Last year at this time that rate averaged 4.92 percent.
The yield on Treasuries -- U.S. government debt sold to investors -- is also hovering near record lows, data show. Two-year Treasuries yielded 0.37 percent at the close of Tuesday trading, Fed data show. It was about triple that this time last year.
10-year Treasuries were giving investors 2.44 percent as of Tuesday, or about half the rate of return they received just three years ago. 30-year government bonds yielded 3.8 percent, a full percentage point less than only six months ago. And 5-year bonds were yielding just 1.14 percent, data maintained by the Federal Reserve Bank of St. Louis show. Five months ago they were yielding double that rate.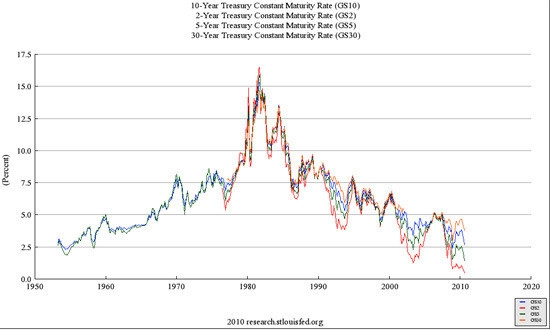 The average yield on corporate bonds rated Aaa by Moody's Investors Service has dropped to 4.53 percent, according to Federal Reserve data through September. The rate hasn't been that low since 1965.
So fixed-income investors, like pensioners and other retirees, are getting hammered because their savings aren't generating the income they're used to. More Fed action could only serve to further depress those yields.
"Yes, it might lower long rates a little and juice stockmarkets a bit more," Ashworth said. "With mortage rates and corporate bond yields already close to record lows, however, we doubt that would have any meaningful impact on the wider economy."
Bernanke, though, reiterated his case for more monetary stimulus, raising the specter of low -- and slow -- growth.
"Although output growth should be somewhat stronger in 2011 than it has been recently, growth next year seems unlikely to be much above its longer-term trend," the nation's central banker said Friday. "If so, then net job creation may not exceed by much the increase in the size of the labor force, implying that the unemployment rate will decline only slowly.
"That prospect is of central concern to economic policymakers, because high rates of unemployment -- especially longer-term unemployment -- impose a very heavy burden on the unemployed and their families. More broadly, prolonged high unemployment would pose a risk to consumer spending and hence to the sustainability of the recovery."
*************************
SUBSCRIBE TO & FOLLOW THE MORNING EMAIL
The Morning Email helps you start your workday with everything you need to know: breaking news, entertainment and a dash of fun. Learn more