Typhoon Megi Leaves Philippines In Shambles (PHOTOS)
By far the worst storm to hit the Philippines this year, Typhoon Megi reportedly left 11 Filipinos dead and over 200,000 homeless. Bridges were destroyed, farmers' crops were left in shambles, and even the luckier victims were still left without electricity, scrambling over their remains of their possessions.
According to reports, the slightly weakened typhoon is now bound for China, where residents are racing to prepare before it touches ground this coming Saturday, bringing with it heavy rains and strong winds. Though their region is still vulnerable to landslides, proud Filipinos are beginning the slow -- but certain -- recovery process.
See devastating photos of the Philippine regions left battered by Typhoon Megi here: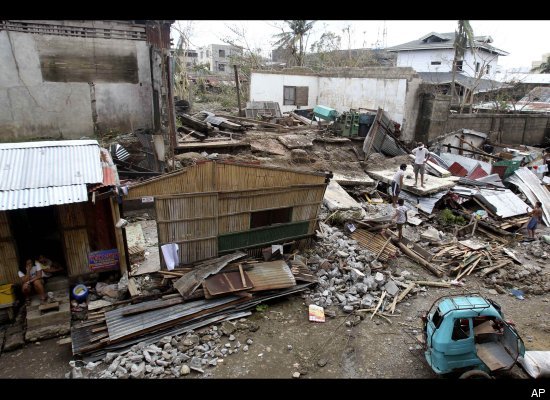 rpr

said on 21 Thursday 2010 am31 2:06 am:


Wrong and wrong. Hurricane is just the name used in North and Central America, Typhoon is the name used in Asia. The generic name is "tropical cyclone." Hurricanes as well as typhoons rotate counterclockwise in the northern hemisphere and clockwise in the southern. There is no difference in strength and both use the Saffir-Simpson scale from 1 to 5.
Total comments:
17
|
Post a Comment