Washington Polls Narrow, Keep GOP Senate Hopes Alive
WASHINGTON -- The possibility of a Republican Senate majority remains alive today, as two new polls show Washington Senator Patty Murray locked in a neck-and-neck contest with Republican challenger Dino Rossi. Republicans can still win control of the Senate with a sweep of the toss-up states, although another new poll in Alaska raises the outside chance of a three-way toss-up, as support for Republican nominee Joe Miller plunges.
Two new (mostly) automated surveys in Washington both show razor-thin margins. Rasmussen Reports gives Rossi a one-point advantage (48% to 47%), while a survey conducted by SurveyUSA and KING-TV shows a tie (47% to 47%).
Over the last few months, Washington surveys conducted with a live interviewer have typically shown Murray doing better than surveys conducted using automated methods, like those conducted by SurveyUSA, Rasmussen and Democratic firm Public Policy Polling (PPP). Two weeks ago, for example, live interviewer polls by CNN/Time and Elway Research showed Murray leading by margins of eight and fifteen percentage points respectively, at about the same time that Rasmussen showed Rossi leading by three-points.
SurveyUSA added a new wrinkle with their current survey, which mixed live and automated interviews in order to reach Washington voters on both landline and mobile phones. In accordance with federal regulations, they used live interviewers to interview voters on their cell phones (a third of their sample) and their recorded voice method to interview voters on landline phones, as in an earlier experiment conducted in Washington in July. "Consistent with the findings of some academic research, but less pronounced than [our] findings in California," the SurveyUSA reports, "the [cell-phone-only respondents] in Washington state are slightly more Democratic than those with home phones."
The two new polls narrow Murray's lead on our trend estimate to roughly a single point (47.9% to 46.9%) and drop her win probability to just 61%, enough to move Washington back into "toss-up" territory.
[Late update: Via Political Wire, advance results of a KCTS 9/KPLU/Washington Poll to be released later today show Murray leading Rossi by six points (51% to 45%) among likely voters, by four among all registered voters (49% to 45%); one of the very few surveys anywhere to show a Democrat doing slightly better among likely voters].
If Washington remains a ongoing source of Democratic heartburn, two new polls in California offer Democrats more hope. California's venerable Field Poll, which also interviews respondents over both landline and mobile phones, shows Senator Barbara Boxer leading Republican challenger Carly Fiorina by eight points (49% to 41%). Meanwhile, consistent with the divergence seen in Washington and elsewhere, the Rasmussen automated poll has Boxer leading, but only by three points (49% to 46%). Our trend estimate continues to give Boxer a nearly five-point advantage (48.5% to 44.0%) and an 86% win probability, which puts California in the "lean Democrat" column.
In Colorado, another new Rasmussen poll shows Republican Ken Buck with a four-point advantage (48% to 44%) over Senator Michael Bennett. Rasmussen's results are once again more favorable to the Republican than other recent polls but in this case Rasmussen diverges with others regardless of their methods. Live-interviewer polls conducted earlier this week by CNN/Time and the Democratic firm RBI show one-point margins for Buck and Bennet respectively, while automated polls from last week by PPP and SurveyUSA found dead-heat ties.
Our Colorado trend estimate continues to give Buck a very slight edge (46.4% to 45.5%) though the associated with probability (67%) remains in the toss-up range.
In Alaska, a new poll released by the Hays Research Group, a firm that sometimes polls for Democrats, finds Republican nominee Joe Miller now running in third place (with 23%) behind Democrat Scott McAdams (at 29%), but the leader was "another candidate you have to write in" (with 34%). The write-in candidacy of Republican Senator Lisa Murkowski, who lost August primary to Miller, creates a big challenge for pollsters since her name will not appear on the ballot. Hays has opted to mimic the choice offered on the ballot exactly and, unlike other pollsters, asks no follow-up or open-ended probe to check how many of those planning to write in a plan to support Murkowski.
While differences in question wording complicate poll analysis in Alaska, Hays released results for four separate tracking surveys conducted during October that allow for an "apples-to-apples" comparison of trends. These show Miller's support declining from 31% to 23% since the first week in October, while McAdams' support has nearly doubled (from 16% to 29%) and the number planning to write-in "another candidate" has increased only slightly (from 31% to 34%). Miller now receives overwhelmingly negative personal ratings (27% favorable, 68% unfavorable). His "very unfavorable" rating has grown from 38% to 60% in just three weeks.
We have opted to treat the "write-in" option on the Hays polls as support for Murkowksi on our chart. These new polls move Murkowski slightly ahead of Miller on our trend estimates (34.3% to 29.6%) with McAdams now within eight points of the lead (26.4%). Murkowski's margin may merit "lean" status for the moment, but the combination of the measurement challenges to pollsters and the volatile three-way choice facing voers makes Alaska the least predictable race on the Senate map.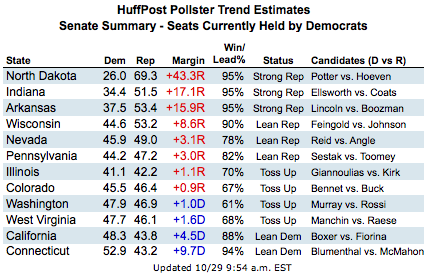 The new polls show that Republicans still have a real chance to win control of the Senate, but it will require sweeping every close or "toss-up" contest, including Washington, Colorado, Illinois, West Virginia, and Nevada. That's an improbable outcome if the average of all polls is unbiased. As Nate Silver's recent analysis implies, the chances for a Republican Senate majority remain very real if the automated polls are closer to the truth than the live interviewer polls, especially in West Virginia and Washington.
Note: Our newly-updated trend estimate model assesses the trends across all races, so whenever we add a new poll in any state, the probabilities and trend estimates for all races will change very slightly (usually no more than a tenth of a percent or two for the trend estimates).
Follow Mark Blumenthal and HuffPost Pollster on Twitter