10/30/2010 11:22 PM EDT
Huge
CBS estimates that 215,000 people attended the Rally to Restore Sanity. That's nearly two-and-a-half times the number estimated to have shown up for Glenn Beck's "Restoring Honor" rally in August.
10/30/2010 10:10 PM EDT
CBS: Crowd Estimate On The Way
In a story about today's rally, CBS News explained that it would soon publish a "sure-to-be-controversial" crowd estimate.
In September, CBS News commissioned an estimate of Glenn Beck's Restoring Honor rally. They reported that roughly 87,000 people attended Beck's rally.
10/30/2010 9:49 PM EDT
'Fear Or Sanity?'
"Fear or sanity?" Arianna went into the crowd at Rally To Restore Sanity and asked attendees which sentiment most resonated with them.
WATCH:
10/30/2010 9:23 PM EDT
Articulating Sanity
A handful of riders on a HuffPost Sanity Bus told us why they were drawn to the rally.
Two of the most striking quotes from two different people:
"I'm a liberal, but that doesn't mean that I don't think Republicans have good ideas. But I think that the exchange of those ideas has become so stagnated, so separated. There is no exchange."
And...
"If a democracy has to function, I think that there should be a higher level of conversation. And I think this is an attempt to say that not everybody in this conversation needs to be so hateful, so opinionated, with total disrespect to the facts."
WATCH:
10/30/2010 7:24 PM EDT
Bound For Sanity
Before boarding buses outside Citi Field in New York, a few "Sanity" attendees explained why they decided to take part in the rally.
WATCH:

10/30/2010 7:05 PM EDT
Austin, Texas
HuffPost reader Lynn R. sends in scenes from the rally in Austin, Tex.:
10/30/2010 7:02 PM EDT
We Have Our Reasons
Arianna asked those riding HuffPost Sanity Buses why they chose to attend Saturday's rally.
WATCH:
10/30/2010 4:24 PM EDT
Oops!
Politico prominently featured a story about Saturday's Rally to Restore Sanity, in which the authors argue that Jon Stewart "walked a fine line between politics and humor." Just one problem. The photograph used to promote the story at the top of Politico's front page was taken from a rally of a very different sort -- Glenn Beck's August 28 "Restoring Honor" rally. Scroll down to see a screengrab from Politico's front page, as well as the AP photo from Glenn Beck's event.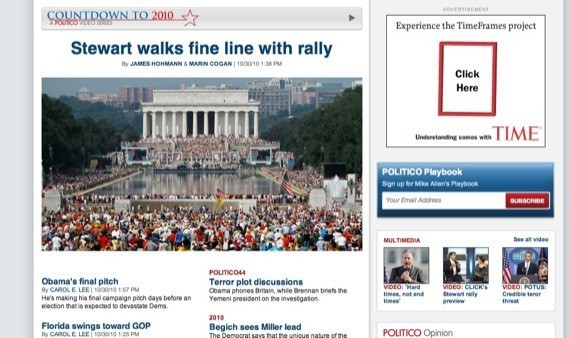 Original photo: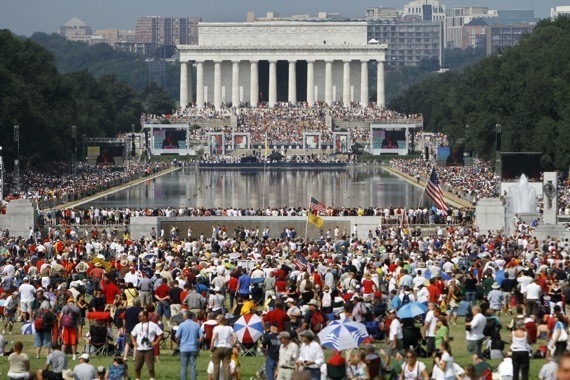 10/30/2010 3:30 PM EDT
Irrational Exuberance
From The New York Daily News:
Millionaire blogger Arianna Huffington is picking up the bus fare for more than 10,000 New Yorkers headed Saturday to Comedy Central's "Rally to Restore Sanity."

"It was a moment of irrational exuberance," Huffington joked in an interview with the Daily News, admitting she never expected so many people to take her up on the offer.

Now, about 250 buses later, Huffington, founder of the popular Huffington Post - the left-leaning news and opinion website - is believed to be forking over hundreds of thousands of dollars to drive New Yorkers to Washington and back home again.

She declined to say how much she's ponying up for the trip.

Dubbed by Huffington "the Sanity Bus," Citi Field in Flushing, Queens, is the staging ground for today's 6 a.m. departure.

Huffington also handed out free "flipcams" to 200 riders who wrote one-line sentences saying what they would do "to restore sanity" in America.

"Taking a stand for sanity is not a partisan position. It's neither right nor left. It's reasonable. We have to stop demonizing anyone we disagree with," Huffington said.
SUBSCRIBE TO & FOLLOW TRUMP'S FIRST 100 DAYS
How will Donald Trump's first 100 days impact YOU? Subscribe, choose the community that you most identify with or want to learn more about and we'll send you the news that matters most once a week throughout Trump's first 100 days in office. Learn more