Sanity Rally PHOTOS: Jon Stewart, Stephen Colbert & Many More
The Rally to Restore Sanity wrapped up in Washington, D.C. , with a huge crowd on hand to see performances from The Roots, John Legend, Yusuf Islam (Cat Stevens), Ozzie Osbourne, Tony Bennett and more. HuffPost's live blog of the rally has full details and footage from the event, including video from the HuffPost Sanity Buses, which took 10,000 people from New York to the rally.
Scroll down for photos from the rally. Which is your favorite?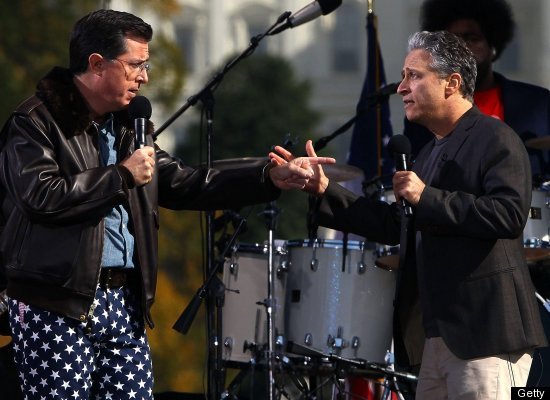 margoharris

said on 30 Saturday 2010 pm31 6:12 pm:


The majority of the crowd were 18-39. Maybe the kids will step up and save us all. We can only hope and GOTV.....I took 3 girls to the poles yesterday to vote, I just walked up to them at a grocery store and asked them if they voted yet and they said no, when is it? Right now I'll give you a ride to the court house where they were having early voting we chatted for a few minutes and they said okay and off we went. Twenty minutes later we were back. All three voted for the first time in 2008. Every vote counts.
Total comments:
632
|
Post a Comment
Subscribe to the HuffPost Hill newsletter!