White House Calling The Shots On GM IPO: Reuters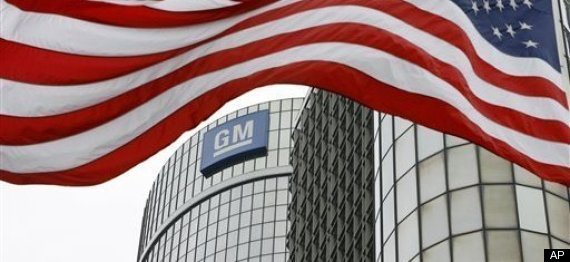 NEW YORK/DETROIT (Reuters, By Clare Baldwin, Soyoung Kim and Kevin Krolicki) - Steve Girsky remembers sitting at his kitchen table in New York on the eve of President Barack Obama's election when he realized that General Motors was going to run out of cash.
"I put down my pad," said Girsky, a banker brought in by the United Auto Workers union to report on GM's finances. "I turned to my wife and said, 'Remember this night. This is the night we figured out GM's going out of business.'"
Two weeks later, the same realization was sinking in across America as the chief executives of GM, Ford and Chrysler -- and the head of the UAW -- flew to Washington to ask Congress for an unprecedented bailout. By November 2008, GM was on a path to become "Government Motors," with the U.S. Treasury its majority shareholder.
As Girsky put it, "the situation got infinitely more complicated" -- a controversial $50 billion bailout, a 2009 bankruptcy and an arc that took Girsky, 48, from a well connected industry analyst to the ultimate GM insider: a board member and the senior executive in charge of strategy.
Two years after Girsky's kitchen table reckoning, the agenda for GM remains dominated by the U.S. election cycle as the automaker reaches the final stage of preparation for an initial public offering to pay some of the roughly $40 billion it owes American taxpayers.
The Obama administration and GM executives say the White House has stayed good to its pledge to refrain from meddling in the day-to-day management of this 102-year-old industrial enterprise with 600,000 American workers and retirees and 12 percent of the global car market.
But a review of key events leading up to GM's IPO and interviews with people involved inside and outside the company show that the U.S. government has been running key aspects of the landmark stock deal and exerting tight oversight on management decisions seen as crucial to its success.
On the biggest questions surrounding the IPO, including its speed and size, the fees paid to the bankers and the potential involvement of offshore investors, the U.S. Treasury has called the shots, people involved in the process say.
That in turn has added a layer of complexity to a deal expected to rank as one of the top IPOs of all time by size. It also leaves open the possibility that the Treasury Department will remain an invisible hand that guides other decisions down the line, which could concern some investors.
"I'm sure that there will be some institutional investors, and even some individual investors, that it scares away," said Morningstar analyst David Whiston, who nevertheless sees a good chance for GM to be worth enough to make taxpayers whole on the bailout.
GM, its advisers, the banks and the U.S. Treasury declined to discuss the IPO and related issues publicly, citing U.S. securities regulations.
Since May, the Obama team has pushed GM and bankers to have the IPO ready for the fall. People familiar with the plans say a road show for investors will begin after congressional elections on Tuesday, which are expected to reflect voter backlash against Democratic incumbents.
That timetable represents the first step in an exit strategy for the U.S. investment in GM that was vetted by outgoing White House economic adviser Larry Summers in 2009.
The initial plan projected that GM would launch an IPO in late 2010 that would allow the U.S. Treasury to sell 20 percent of its common stock in the automaker, reducing its ownership to below majority at 49 percent. The strategy called for subsequent sales that would get the government out of GM entirely before the end of the next presidential term, according to people involved in the process.
Summers "really wanted it understood that the government was going to be out by eight years. I think everybody's hope and expectation was that we would be out a good deal faster, maybe in the three- to five-year time frame," said former autos task force chief Steven Rattner.
Treasury and the other GM investors, the UAW's health care trust and Canada, will likely make a call on how much stock to sell in the IPO in the days ahead of the offering, which is expected during the week of November 15.
UNDER THE HOOD
By many accounts, political considerations have loomed throughout the run-up to the IPO, sources said. In one example, bankers debated whether it would be appropriate to fly on private jets to pitch investors on GM's road show, given the public backlash when auto CEOs arrived in Washington in 2008 on separate charters to plead for a bailout.
The stigma of government ownership also complicated GM's efforts to market itself. In one case, GM quietly dropped a plan for a commercial for the Chevy Cruze small car that would have featured Sarah Palin, the polarizing Republican politician, and her comic doppelganger, Tina Fey, two people familiar with the proposal said. Coming so close to the November election and the IPO, the ad was seen as edgy, but too controversial given GM's ownership, they said.
For his part, GM Chairman Ed Whitacre, a former AT&T CEO, says the Obama administration has held good to a pledge to let GM run its operations despite a government ownership stake of almost 61 percent. Other insiders also give the White House a clean bill on that claim. Said one: "Obama is not calling with ideas on the color of the Chevy Volt."
"Before I went, I said, 'We want to run it ourselves.' They said, 'Fine.' They were true to that word; they never interfered one minute. They did exactly what they said. I have to give them an A plus," Whitacre, 68, told Reuters earlier this month of his interaction with the U.S. autos task force.
But before Whitacre took over as GM CEO in December 2009, the task force had been directly involved in decision-making at the automaker and had an active role in the process that led to the board's decision to fire his predecessor, Fritz Henderson.
In the most direct intervention of 2009, the White House scuttled a proposal by GM to leave its glass-towered headquarters in Detroit's Renaissance Center for the nearby suburb of Warren where it has its engineering and development center, according to Rattner.
Whitacre himself chafed at Washington oversight during his brief tenure as CEO and chairman, according to a person with knowledge of the matter. This person said Whitacre felt hemmed in by the team of securities lawyers brought in to ensure that nothing would upset the timetable for Treasury's planned IPO.
THE RETURN OF THE BANKERS
By this spring, James Bainbridge Lee was back.
Known as Jimmy at his bank JPMorgan Chase and to his many clients, Lee had returned to a familiar spot: negotiating with the Obama administration over a deal stemming from its bailout of the U.S. auto industry.
A 35-year Wall Street veteran, Lee was the point man in high-stakes, but failed negotiations between a group of creditors and the Obama autos team to keep Chrysler out of bankruptcy in 2009. Just over a year later, he was jockeying for a piece of the GM IPO, potentially one of the largest and most prestigious IPOs ever.
In a reminder of the stakes, the U.S. Treasury had called GM "an icon of American ingenuity, productivity and capitalism" in its initial legal salvo to remake the automaker.
At one point in early 2009, Lee, 58, a staunch Republican, also lobbied Rattner to consider reviving plans for a merger of GM and Chrysler.
That proposed last-ditch merger from late 2008, dubbed "Project America" by Chrysler planners, was the reason Girsky had been brought in to examine GM's rapidly deteriorating finances for the UAW.
But by 2010, Lee shifted his attention to the GM IPO. "It's high profile. Jimmy loves high profile," said one person involved in the deal. As a sign of his enthusiasm, Lee took to showing off pictures of his brand new Corvette ZR1, GM's fastest production car ever, priced at $120,000.
"He's done that since day one. He's been shameless about it. 'Look at the car I bought,'" the person said.
The banker's bake-off for a piece of GM's IPO took place in the presence of U.S. Treasury officials on May 19 at the office of law firm Jenner & Block, according to participants.
Morgan Stanley sent Chairman John Mack, JPMorgan sent Chairman and CEO Jamie Dimon, Bank of America sent President and CEO Brian Moynihan and Citigroup had CEO Vikram Pandit dial in by phone. Goldman Sachs' Lloyd Blankfein was in London so the bank sent President and COO Gary Cohn and co-investment bank head David Solomon instead.
The stakes were high: Whitacre was understood to have been pushing a Texas-style big deal to whittle down the government's stake. That had the potential to make the automaker's IPO bigger than Visa's $19.7 billion offering in March 2008.
It was clear to all involved in the meetings that Treasury would be run GM's offering with Lazard as its adviser.
GM, in name, would make the call, but Treasury retained veto power over the selection of underwriters. Its role was bolstered by Whitacre's apparent lack of interest in which banks landed the coveted lead slots, sources said. "It opened a lobbying circus for Treasury," one source said.
Each bank turned in a stack of papers with responses to questions posed by Lazard, including the types of investors to be targeted, credentials, and suggestions for improving GM's capital structure. The pitches drew in part on each bank's history in the industry and its work with the Obama Treasury.
Morgan Stanley worked with Treasury on analyzing mortgage giants Fannie Mae and Freddie Mac and helped sell its stake in Citi. GM's Vice Chairman Girsky, who represented the interests of the UAW on GM's board and had emerged as Whitacre's closest confidant, was also a former Morgan Stanley auto analyst.
JPMorgan was one of the largest lenders to the auto industry and had a history with GM going back to its fast-growth days of the 1920s when it began its ascent under President and Chairman Alfred Sloan. It offered to take its fee in GM stock, a move designed to show that its success was literally tied to that of GM.
That offer was ultimately discarded by U.S. officials on fears that the stock would appreciate too much and JPMorgan would end up with an outsized fee, sources said.
Bank of America played up its retail distribution angle, arguing that the size of the offering and GM's well known name would entail large sales to individual investors. The bank argued that it was best placed for that work because of its Merrill retail brokerage unit -- an acquisition it made during the height of the financial crisis.
Goldman Sachs had a tough sell. The U.S. Securities and Exchange Commission in April charged the bank in a civil lawsuit with improperly packaging and marketing a mortgage product. In the three months it took to settle the charges, Goldman's stock was hammered, at one point losing more than $25 billion of its value.
The initial selection process for lead underwriters was complete before Goldman's July settlement. Sources familiar with the process said the Goldman controversy made the U.S. government reluctant to award the bank a lead role in what would be a closely scrutinized offering.
The GM bailout remained unpopular with voters and Wall Street was taking flack for its rising, post-financial crisis pay even as Main Street's economy sputtered. It was clear that the GM underwriting fees would have to be vetted against that tough political backdrop.
Treasury went through Lazard to poll banks on the fee they would be willing to accept. An offering of $10 billion to $20 billion would typically come with a fee of 3 percent to 3.5 percent.
Most banks responded that they would underwrite the offering for slightly less, between 2 percent and 2.5 percent. Then Goldman raced to the bottom, announcing it would do the deal for a fee of 0.75 percent.
"They probably realized they needed to do something dramatic," said one person familiar with the pitch. The bid put Treasury in a tough spot, that person said. "How would it have looked if it got out that they didn't accept the lowest bid?"
Led by Ron Bloom, a former Lazard banker and assistant to the United Steelworkers union, Treasury officials used the Goldman bid to lever down its rivals.
The potential size of the GM IPO helped cushion the blow. At $10 billion - the low end of the IPO range projected -- a 0.75 percent fee means $75 million in fees. By comparison, all U.S. IPO fees in the first half of the year totaled $700 million, according to research firm Freeman Consulting.
"I think we're ready to eat whatever is presented," said one weary banker, noting that the underwriting business was still below pre-crisis levels.
Morgan Stanley and JPMorgan were finally chosen as lead underwriters to help prepare GM's SEC filing for its IPO.
Bank of America Merrill Lynch and Citi, which led the syndication for GM's $5 billion credit line, were later added as lead underwriters. Morgan Stanley and JPMorgan fought to keep them out of that role, a source said.
The IPO, which would return the onetime blue chip GM to the public markets, was dubbed "Project Dawn" by bankers.
As a gesture of gratitude to Canada for its role in the bailout, it was decided that the new GM would be dual listed on the Toronto Stock Exchange as well as the New York Stock Exchange, sources said.
Then came a twist that underscored the unexpected consequences of the U.S. government's ownership stake in both banks and car companies. The U.S. Treasury, which owns 61 percent of GM, also owned 12 percent of Citigroup's common stock. At its core, that set the government up to be potentially both a buyer and a seller of GM stock.
The conflict was seen as unlikely to have a major impact on the IPO but was significant enough to have been flagged in a regulatory filing with the SEC.
HOW WILL IT PLAY IN QATAR?
One of the key questions for GM's underwriters was whether they would be able to market the deal to sovereign wealth funds, pools of money managed for foreign governments in Asia and the Middle East.
The advantages of such an approach were clear. Bankers involved in the deal argued that funds like the Kuwait and Qatar investment authorities could serve as "cornerstone" investors that could buy and agree to hold a big chunk of the deal in an otherwise tough market.
But the Treasury was sensitive to the potential backlash. Had U.S. taxpayers bailed out GM to subsidize its purchase by foreign governments in the Middle East, Singapore and China? After all, the GM IPO was expected to be priced at a discount of up to 20 percent from what bank analysts determined would be its theoretical value.
By September, the question became more pressing because GM's partner in Shanghai, Chinese automaker SAIC, had expressed an interest in buying a "single digit" stake, sources said.
Subscribe to the HuffPost Money newsletter!