UPDATE: Thanks to a screenshot from Center Networks, you can see what Twitter's in-stream ads will look like (at least on HootSuite). CenterNetworks says of the image: "[T]he highlighted color of the ad was based on my rollover on the ad – the ad is not highlighted in yellow by default although my guess is that if the ads don't receive the expected response rates, highlighting as seen below may be the next step is gaining a higher response rate."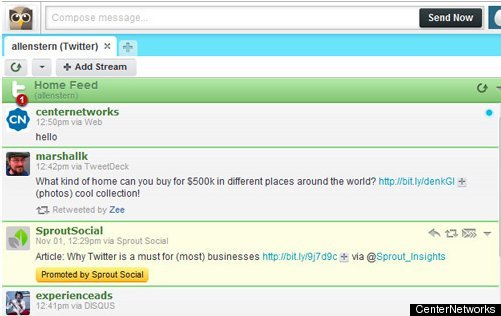 Twitter has started putting ads, or "Promoted Tweets," in users' timelines, the microblogging service announced in a blog post.
Twitter has partnered with HootSuite, a third-party Twitter client, to test a new service that will insert Twitter ads into tweeters' streams. Initially, only a smaller subset of HootSuite's 175 million users will be shown the advertisements.
Adding ads to message streams is a big move for Twitter, and it remains to be seen whether users will take to the Promoted Tweets. Will they engage with them? See them as helpful? Or will they view them as an annoying disruption?
Twitter said it is working to ensure users are shown ads that are "useful and authentic." It wrote in a blog,
As with with Promoted Tweets in search, we will display Promoted Tweets in the timeline when they are relevant. Similar to our Promoted Account recommendations, we use several signals to determine a Promoted Tweet's relevance to a user, including the public list of whom they follow. We will expand the rollout only when we feel we're delivering a high-quality user experience.
Users will see messages which are relevant to their interests and behaviors - some users will rarely see Promoted Tweets, while other users will be presented with appropriate tweets more frequently based on a variety indicators. If a Promoted Tweets fail to garner user engagement, it will be dropped or modified.
According to Ad Age, Virgin, Red Bull, and Starbucks are among the first brands to pay for the new service.
What do you think of Twitter's move? Are you open to the idea of seeing Promoted Tweets in your timeline?
FOLLOW HUFFPOST