Oh, those 1916 New Yorkers and their crazy ideas! Like Dr. T. Kennard Thomson, an engineer and city planner who dreamed up the above map of a New York City that involves enlarging Manhattan with dams filling up the space between Manhattan and Staten Island. With what money? Easy access between Staten Island and Manhattan would raise Staten Island's land value from $50 million to $500 million, which, Thomson wrote in a 1916 issue of Popular Science, "would help pay the expenses of the project." So where's our Manhattan-Brooklyn-Staten Island land bridge?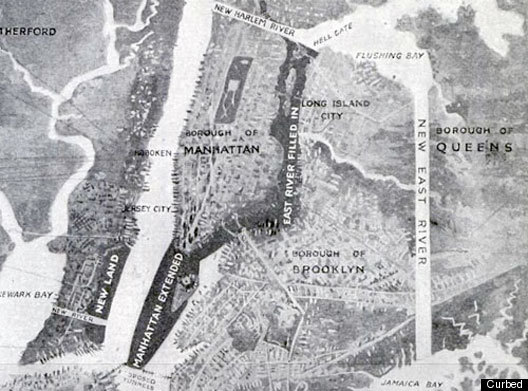 SUBSCRIBE AND FOLLOW
Get top stories and blog posts emailed to me each day. Newsletters may offer personalized content or advertisements.
Learn more