W magazine spent some quality time with Roberto Cavalli and his family at their homestead in Florence where the designer talked about having babies. Actually.
"My first child was born nine months, 10 days after the wedding. For me, I would expect to have 10! I never understand why God give the possibility to have children just to woman," he continued, clutching theatrically at his belly. "Oh, my God, my dream would be to have a baby!"
The Cavallis' estate -- which "occupies 36 undulating acres on the city's outskirts, with indoor and outdoor swimming pools, a wine cellar, and a helipad. In addition to the main house, there's a futuristic bachelor's studio, built in 2008 by architect Italo Rota, with a tanning bed, a DJ booth, and a bed laden with stuffed animals," according to W -- sounds like a well-dressed mad house. Eva, Roberto's wife remarked, "When my father came here, years ago, we had dinner one night, and he said, 'Eva, what is happening? I'm worried. What is all this shouting?' I said, 'Don't worry. Everything is fine. We are just talking.'"
W also included some amusing details about the business side of Cavalli, who "conducts his affairs from a 15-year-old Nokia cell phone the size of a shoe ('I bought all of the ones on eBay,' he said)," a rich visual. The designer also spoke of his 40th anniversary show, which was to be held in Milan in two weeks: "I will invite the other designers, but they won't come -- they are all shit."
Take a look at the Cavalli clan as shot by Patrick Demarchelier. That's Roberto Cavalli and granddaughter Mariacarla with (from right): son Robin; son-in-law Joseph Aicoviello, daughter Rachele, and granddaughter Maria Eva; wife Eva; and daughter Cristiana with fiancé Francesco Agostinelli.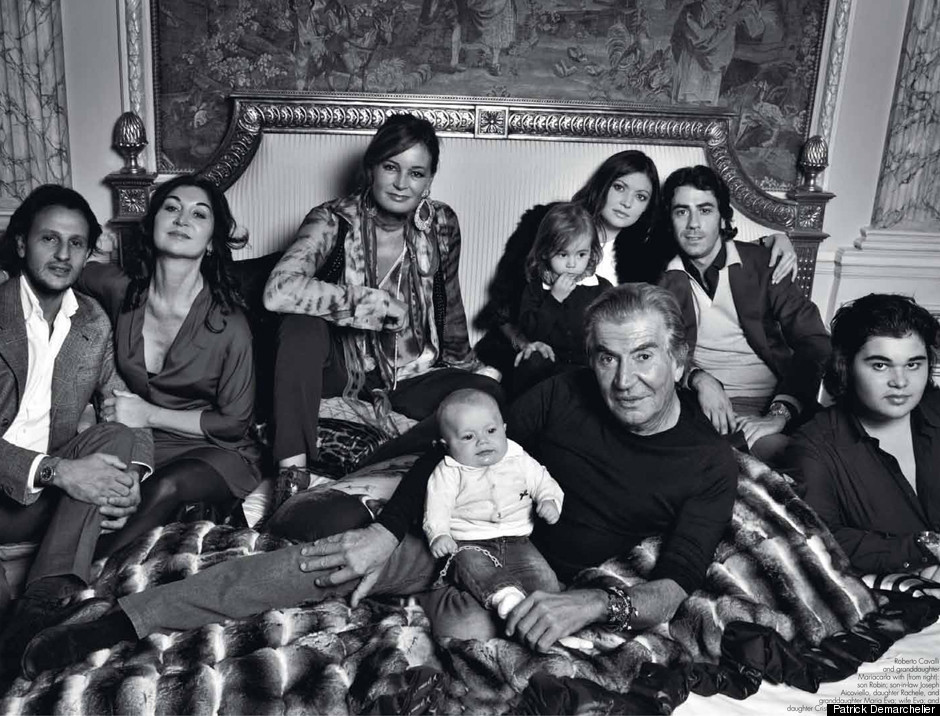 FOLLOW HUFFPOST