*Scroll down for photos*
Last night, guests from New York City, Los Angeles, and London braved a torrential downpour to attend a "Forgotten Fashion" book party honoring the release of Let's Bring Back by Huffington Post contributing Style editor Lesley M. M. Blume.
Held in the delightful Library of New York's Soho House, the party celebrated some of the once-great, now-unjustly-obscure fashion designers showcased in the book.
Parsons School of Design -- which co-hosted the event -- displayed exquisite archival clothing, including dresses by mid-century American designer Claire McCardell (often credited as a pioneer of the "American Look") and Sophie Gimbel, who was part of the "New Look" wave following World War II. New York Vintage also loaned a rare, black satin Norman Norell "New Look" cocktail gown. See photos of each in the slideshow below.
Professor Annie Frank of Parsons gave a spirited presentation on the topic, discussing how French and American designers have influenced each other over the last century, and showing how 18th century flourishes even filter into the clothing we wear today.
"The 'New Look' was actually not so new at all," she said, showing a slide of a French dress from the 1700s which sported the same silhouette.
French designer Christian Dior is usually credited with popularizing the "New Look" -- which featured a cinched waist and huge, petticoated skirt -- in 1947. After the clothing restrictions of World War II, the look's lux abudance of cloth created a huge splash and defined styles for the next decade.
Other American designers honored at the event included Charles James (whose gowns could literally stand up by themselves), Old Hollywood costume designer Adrian, and Giorgio di Sant' Angelo, whose influences still turn up on runways today. Eleanor Lambert -- who founded America's Fashion Week -- and lavishly-eccentric Vogue editor Diana Vreeland were also celebrated.
Let's Bring Back began as a column at the Huffington Post's Style section in 2007, and was released as a book on November 1, 2010. It profiles an international array of historical fashion designers, from Surrealist designer Elsa Schiaparelli to father-of-couture Charles Worth to Paco Rabanne, who presented 1960s customers with dresses of intentionally "unwearable materials."
Photos by Patrick McMullan.
Savannah Roberts, Jay Batlle, Lesley M.M. Blume

Huffington Post Senior Style Editor Anya Strzemien (in a silk robe courtesy of Brooklyn's Olive's Very Vintage), Lesley M.M. Blume

Rod Keenan, Fay Cantor-Stephens, Cator Sparks

Mauri Weakley, Greg Macek

Vogue.com's Caroline Palmer, Allison Deudermann, Erica Barth

Kelly Cutrone, Country Living Editor-in-Chief Sarah Gray Miller, Anya Strzemien, Lesley M.M. Blume

Michelle Harper, Lesley M.M. Blume

Annie Frank of Parsons, Anya Strzemien, Lesley M.M. Blume

Lenore Newman, Heidi Sherman, Julie Skinner, Donna Rothchild

Dr. Erika Faust, Shala Monroque

Huffington Post's Katy Hall and Chris Davis

Huffington Post Associate Style Editor Hilary Moss, Food Editor Colin Sterling, and Styleite.com's Verena von Pfetten

Annie Frank, Bibhu Mohapatra

Chef Jennifer Lynn Pelka whips up some onion dip

Beth Charleston, Simon Collins, Annie Frank

ICM's Kate Lee, Lesley M.M. Blume

Annie Frank lectures

Black satin dress: Norman Norell (loaned by New York Vintage)

On the left: Dress with drawstring collar: Claire McCardell (loaned by Parsons). On the right: New York Vintage loaned a rare, black satin Norman Norell "New Look" cocktail gown.

Houndstooth suit: Claire McCardell (loaned by Parsons)

Red velvet dress: Sophie Gimbel (loaned by Parsons)

Lesley M.M. Blume

Parsons archivists Aneesa Sheikh and Beth Dincuff handled the Norman Norell dress with gloves.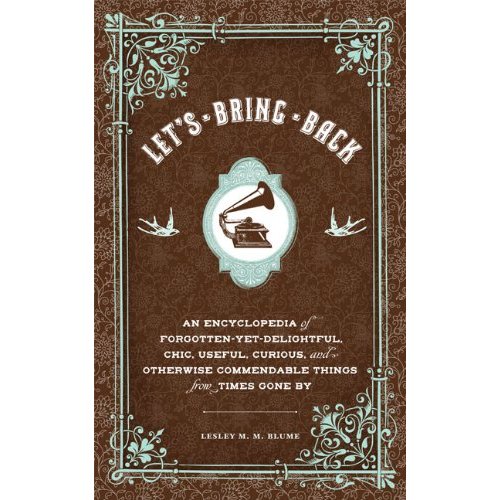 BUY THE BOOK: Click here to purchase Let's Bring Back.
Follow Let's Bring Back on Twitter: @LetsBringBack
For publicity inquiries, please contact April Whitney at Chronicle Books: April_Whitney@chroniclebooks.com