The Telegraph recently caught up with one of our favorite ladies, Karen Elson who talked about her image and her private life. She remembered when she was 18 years old and dyed her hair red and shaved off her eyebrows...and landed the cover of Italian Vogue, ushering in the era of the "freak":
'I'd be backstage and every journalist would ask, "You're a freak; how does it feel?" And I'd be like, "I'm 18, I don't know how it feels,"' Elson says imitating her frightened teenage self. '"Can I just go and smoke a cigarette, please?"
Here's her cover: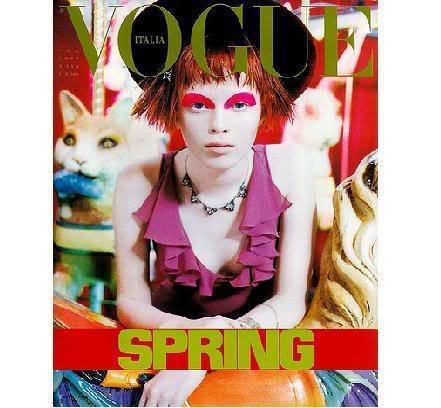 Elson mentioned her past problems with eating disorders. She was hospitalized for not eating when she was seven years old after her parents split up. Elson stayed healthy for a while but was then turned down from a Dolce & Gabbana catwalk show for being too large in 1998. Then, as the Telegraph recounts, Elson wrote a piece called "One model's battle with anorexia" for British Vogue in 2002:
She'd seen 'Kate Moss's statistics in a magazine and how much she weighed. They said [Kate] was seven stone, so I thought, "That's it, that's how much I want to weigh."'

[Karen] said that she only felt beautiful when she was starving. 'I'd be not eating or bulimic or taking laxatives.'
Elson, now healthy, is married to White Stripes frontman Jack White -- and is actually good friends with his ex-wife Meg. Meg was even Elson's maid of honor at her nuptials. Elson told the Telegraph:
"I love Meg, she's one of my very closest friends. She's brilliant, I love her. Her husband plays in my band. I see Meg all the time. I probably see Meg more than I see Jack at the moment. It's family."
Read the rest of the profile at The Telegraph.
SUBSCRIBE TO & FOLLOW LIFESTYLE
We're basically your best friend… with better taste. Learn more