Interpol has issued a red notice for the arrest of WikiLeaks founder Julian Assange. The notice is an international 'wanted poster' that the agency hopes will lead to the extradition of the wanted person to the country that originally filed the arrest warrant.
The notice is now appearing on Interpol's website, saying that he is wanted for " sex crimes." The charges come from an alleged incident in Sweden.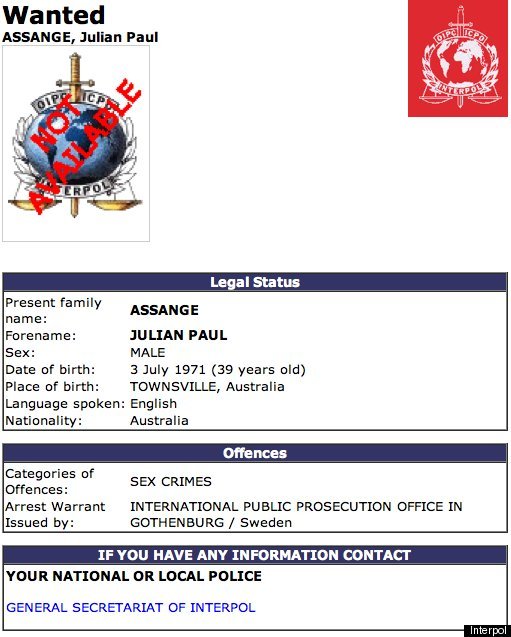 According to Wired:
The investigation stems from separate encounters Assange had with two women during his August visit to Sweden, where he was applying for Swedish residency and attempting to secure the protection of Swedish free-press laws for his secret-spilling website. According to local news reports, the women told investigators the sexual encounters began as consensual, but turned non-consensual. One woman said Assange ignored her appeals to stop when the condom broke.

Assange has denied any wrongdoing, and hinted that the complaints are the result of a U.S. "smear campaign" targeting WikiLeaks -- leading some supporters of the group to publicly investigate the two women and their families.
According to the Guardian, Assange is in a 'buoyant mood' despite the severe legal pressures he is facing. In addition to the charges in Sweden, he is facing investigation by Australian police. Reports the Guardian:
He was said to be at a secret location somewhere outside London, along with fellow hackers and WikiLeaks enthusiasts.

In contrast to previous WikiLeaks releases, Assange has, on this occasion, kept a relatively low profile. His attempt to give an interview to Sky News via Skype was thwarted today by a faulty internet connection.
Assange may still have one safe haven: the left-leaning government of Ecuador has promised that he can have a home there if he is forced to abandon his attempt to gain residency in Sweden.
UPDATE: The president of Ecuador has rescinded an offer made by a lower official to provide residency for Assange.