A few days ago, a new poll from the Washington Post/ABC News found that 77 percent of respondents said that they thought "gays and lesbians who DO publicly disclose their sexual orientation should be allowed to serve in the military." Today, the Post's Ed O'Keefe expands on those findings, and breaks the respondents down into demographic categories. Here's the response, at a glance: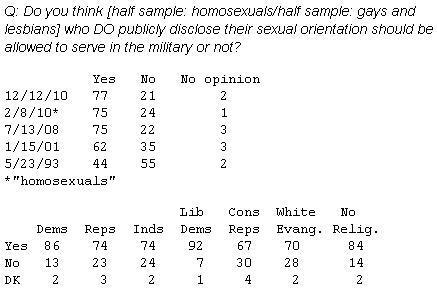 So by large margins, Democrats, Republicans, independents, liberals, conservatives, evangelical Christians, and atheists agree: it's time to repeal "Don't Ask, Don't Tell." Who's against that? John McCain, a Marine Corps commandant concerned about gay-panic-induced spontaneous amputation, crypto-loons from the most-bailed-out newspaper in America, and people from the year 1993.
SUBSCRIBE AND FOLLOW
Get top stories and blog posts emailed to me each day. Newsletters may offer personalized content or advertisements.
Learn more